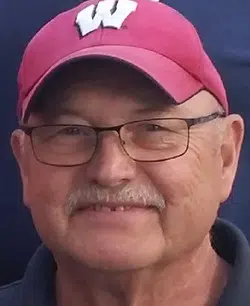 William (Bill) James Spence, age 74, of Bear Creek, WI, died Wednesday, November 22, 2017, surrounded by his beloved family. His heart was large enough to love an entire community of people but in the end, it was no longer strong enough to sustain life here on earth.
Bill was born September 14, 1943 and was the eldest son of Melvin and Vivian Spence.  He went to St. Rose grade school and graduated from Clintonville High School.  Bill married the prettiest girl in town, Kathleen McClone, on November 13, 1965 and together raised the four Spence girls.  Bill was a member and usher at St. Mary's in Bear Creek where he sustained his faith and will leave an empty pew in the back of church at Sunday Mass.
Bill spent most of his life working alongside his mother as a butcher at Central Meat Market in Clintonville and then at Spence's Market in Bear Creek from 1961 to 1999 where he cut deer and made venison sausage for hunters from all over the state.  He drove milk truck for Olmsted Trucking for several years where he enjoyed the company of the farmers. Dedicated to his community, Bill drove school bus for Clintonville School District for 30 years and was a member of Bear Creek Volunteer Fire Department for 52 years where he was chief from 1986 – 2013.  As a second career, Bill became a Bear Creek First Responder and subsequently an EMT for New London Family Medical Center until he retired in 2013.
Bicycles were his hobby and he loved fixing bikes as much as riding them.  The (almost) annual Spence bike trip was his "Christmas" when he would spend weeks planning and preparing bikes.  He spent his fall weekends cheering on the Badgers and Packers and taught his daughters to love the game of football and what it meant when the right guard would pull.  He taught his adult grandchildren to drive and would not miss a sporting event or a babysitting opportunity if it meant time with his grandkids.
Bill loved family and people more than anything, was a fantastic listener and could engage anyone in a story or two over a cup of coffee.  He did influence the lives of many young people he had the privilege to mentor at the store, the fire department or on the ambulance.   His Bear Creek family will miss his daily drive or bike ride around town.
Bill is survived by his daughters Jacqueline (Tim) Nielson, Clintonville; Jennifer (Rob) Bultman, Wauwatosa; Jodi Spence (Michele Last) Appleton ; Janet Huebner (Jesse Abbey) Weyauwega; grandchildren Jessica Suprise (Coty Van Lannen),  Jillisa (Joe) Zilk, Jenelle Suprise (Nick Lehmann), Nicole (Eric and Ella) Ernst, Katie Nielson and Jericho and Jaelynn, Spencer Bultman (Mary Jane Maurer and Aubrey), Mitchell Bultman (Giana Blazquez), Nicholas and Anna Huebner, Kylie and Caleb Abbey; siblings Sister Stephanie Spence, Stan Spence (Catherine Fontanazza), Robert (Sue) Spence; sister-in-law Pamela Spence; brother-in-law Joseph (Mary) McClone; sisters in spirit Sister Carmelyn Gentrup and Gail Swanke; nephews Tony (Heather) Spence, Ben (Ann) Spence, Patrick (Teri) McClone and Casey (Nicole) McClone; aunts, numerous cousins and those that he considered family; his Bear Creek Fire Department family and the entire village of Bear Creek.
He was preceded in death and reunited with his beloved wife Katie only 18 months earlier, parents Melvin and Vivian Spence, and father and mother-in-law, Joseph and Katherine McClone.
A special thank you to Dr. Tim Rasor, the Clintonville Area Ambulance Service, ICU staff at Appleton Medical Center, Dr. Carrie Chapman and his nurse Melissa for the extra years, months and days.  We are forever grateful for every minute.
He leaves a legacy of love that will be missed by all the lives he touched.
Funeral Mass for Bill will be held on Monday, November, 27, 2017 at 10:30 a.m. at St. Mary's Catholic Church, Bear Creek with Bishop Robert Morneau officiating.  Visitation will be held at the church on Sunday, November 26, 2017 from 4-7; a 7 p.m. prayer service will be held.  Visitation will also be held at the church on Monday from 9:00 a.m. until the time of service.