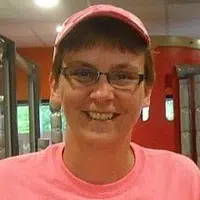 Renee J. Wanta-Meyer, age 46, of Weston passed away Friday, November 17, 2017 at Aspirus Wausau Hospital after a courageous battle with cancer.
The former Renee Jean Wanta was born on September 3, 1971 in Stevens Point to William and Irene (Ploeger) Wanta Sr.  Renee grew up in Galloway and as a young girl her family moved to Tigerton.  She graduated from Tigerton High School in 1989.  Renee was married to Mark Meyer in Shawano and they had two children.  She was employed for close to ten years at Pizza Hut in Clintonville.  Renee also lived in Chicago for a short time and worked at a McDonald's there.  Over her career, she had waitressed at various local restaurants around the area.  Most recently Renee worked for some time at McDonald's in Schofield.
Renee enjoyed cooking, being outdoors, and spending time with her nieces and nephews, especially Brayden.  She was always an active person who liked competing in numerous 5K and 10K races.  Renee was a well-known Green Bay Packer fan and she definitely loved her cats over the years.
Survivors include her mother, Irene Wanta of Clintonville, her significant other, Terry Tullberg of Weston, and three children, Dalton, Jasmine, and Austin.  There are six sisters and one brother; Pat (Bob) Laurent, Cheryl (Herbert) Pehlke, Linda Wanta, Mike (Carri) Wanta, Mary Tullberg, Michelle (Ron) Olson, and Julie (special friend Terry Quaintance) Fry.  She is further survived by many nieces, nephews, other relatives, lots of great friends, and her cat, Monkey.  Renee is preceded in death by her father, a brother William Jr., a brother-in-law Michael Fry, a nephew Alex Wanta, and a great niece Hope Malueg.
Funeral Service will be held on Wednesday, November 22nd at 12:00 Noon at Beil-Didier Funeral Home, Clintonville, with Rev. Richard Vanman officiating.  Friends may call on Wednesday from 10:00 AM until time of service at the funeral home.  In lieu of flowers, please consider a memorial to the family in Renee's memory.