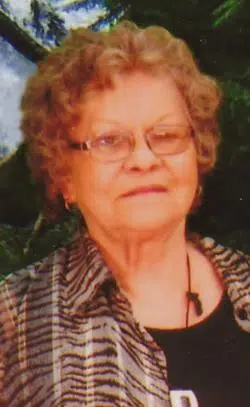 Margaret Helen Garza, age 84, of Keshena, passed away in Appleton on Thursday, November 16, 2017 surrounded by family. Born in Keshena on March 15, 1933, she was the daughter of the late Alvin and Ida (LaRock) Krueger, Sr.  On September 26, 1968, Margaret was united in marriage to Alonzo Garza, who preceded her in death on November 13, 2009.  The couple lived and worked in Milwaukee until 1999, when they moved back to Keshena.  Margaret was a member of St. Michael Catholic Church in Keshena.  She enjoyed going to the casino and playing the slots.
Margaret is survived by: her brother, Alvin (Frieda) Krueger, Jr. of Keshena; her sister, Ida Mae Marroquin of Shawano; and numerous nieces, nephews, other relatives and friends.
She was preceded in death by: her husband, Alonzo; her parents; two sisters, Edna Lee and Elvira Lee; and two brothers, Allen and Eugene Krueger.
Funeral services for Margaret will be held at 11:00 am on Tuesday, November 21, 2017 at St. Michael Catholic Church in Keshena with Rev. Francis Zurbano officiating. Inurnment will be in the church cemetery. Visitation will be held at the Lisa Matchopatow residence at W2769 Chief Little Wave Road in Keshena from 4:00 pm on Sunday, November 19, 2017 until the procession leaves for the church on Tuesday. A parish wake service will be held at the Matchopatow residence at 7:00 pm on Monday.