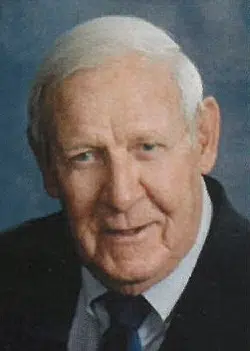 John (Jack) Rohloff
February 27, 1930-November 14, 2017
On November 14, 2017, John D. Rohloff was called to heaven to celebrate the 65th birthday of his son, John II.
Jack was born February 27, 1930 to Fredrick and Wilhemina (Schommer) Rohloff in Appleton, Wisconsin. He was graduated from Menasha High School in 1949.  After working for the City of Menasha as an Assistant Assessor, Jack became a Journeyman Machinist at the Marathon Corporation.  He also shared his knowledge in the field teaching students at Menasha Vocational School during the evening.  He then advanced to the engineering department at Appleton Machine Company which later became Valmet.
Upon Jack's retirement in 1995 he bought yet another Harley Davidson, which he continued to enjoy up until last year.  He was an avid reader, gardener and community volunteer. He was a friend of Bill W., and as such, introduced generations of people to him throughout the years. On December 28, 2016, Jack earned his 50 year medallion.
He is survived by his loving, devoted wife and best friend, Patricia M. (Blohm) Rohloff. Jack and Pat were married for 66 years and had five children: Lois Gunderson of Sherwood, Wisconsin; John D. Rohloff II (deceased); Linda (Thomas) DeBruin of Pittsburgh, PA; Andrew (Kristine) Rohloff of New London; and Patrick Rohloff of New London. He is survived by 11 grandchildren and 13 great grandchildren. He was preceded in death by his parents and siblings as well as his son, John II and grandson, Ben Rohloff.
The family thanks the staff and hospice workers in the Neuro Unit at ThedaCare Neenah for their care, comfort and support of Jack and his family. They are truly angels without wings.
Funeral mass for Jack will be held on Saturday, November 18, 2017, at 11:00 a.m. at Most Precious Blood Catholic Church, New London with Fr. John. Kleinschmidt officiating.  Visitation will be held at the church on Saturday from 10:00 a.m. until the time of service.  Burial will be in the Appleton Highland Memorial Park Cemetery.