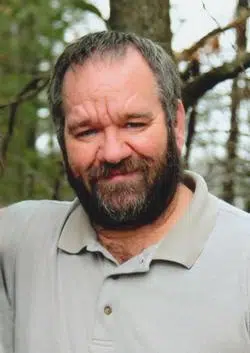 Eric John Kuckuk, age 56, of Bonduel, passed away unexpectedly on Sunday, September 17, 2017 in Texas. Eric was born in Viroqua, WI on October 2, 1960, the son of Constance (Stoehr) Kuckuk and the late David Kuckuk.  Eric and his family were very active in Boy Scouts of America throughout his youth.  He is a graduate of East High School in Madison where he participated on the wrestling team.  Eric also enjoyed helping out on his Uncle Buck's farm over the years.  On January 5, 1985, Eric was united in marriage to Jeanette Lessner in Madison.  Together the couple raised three daughters. Eric was a talented woodworker and his passion for building led to a career which saw him build numerous log homes throughout the United States. In his free time he enjoyed hunting, fishing, sailing, traveling, and time spent at the family cabin on Shawano Lake.
Eric is survived by: his wife, Jeanette; three children, Sondra (David) Ralston of Germantown, Sara (Josh) Friebel of Plainfield and Michelle (Shawn) Vanzant of Weyauwega; six grandchildren, Kaleb, Dominique, Damien, Chloe, Eric, Delilah, with another on the way.  He is further survived by his mother, Constance Kuckuk of Madison; four brothers, Matt (Christine) Kuckuk of Moraga, CA, Paul (Suzie) Kuckuk of Wautoma, Robert (Jenny) Kuckuk of Cottage Grove and Mark Kuckuk of Monroe; father-in-law, Dave Lessner of Madison; brother-in-law, Mark (Donna) Lessner of Janesville; as well as numerous nieces, nephews, cousins, other relatives and friends.
He was preceded in death by: his father, David Kuckuk; mother-in-law, Vonnie Lessner; sister-in-law, Vicki Schweiger; and grandparents, Matt and Anna Stoehr and Roland and Zina Kuckuk.
Memorial services for Eric will be held at 12:00 noon on Saturday, September 23, 2017 at Swedberg Funeral Home in Shawano. Visitation will be held at the funeral home on Saturday from 10:00 am until the time of the service.