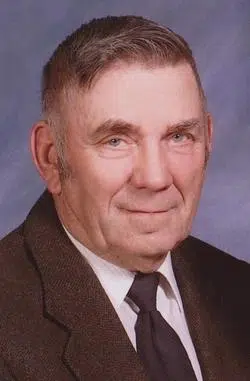 Eugene James Rusch, age 78, of Cecil, passed away on Wednesday, September 13, 2017 in Shawano. Eugene was born on July 15, 1939, the son of the late Clarence and Agnes (Radtke) Rusch.  He was baptized on August 17, 1939 at St. James Lutheran Church and confirmed on March 29, 1953.  On October 20, 1962, Eugene was united in marriage to Bonnie Ann Drath at Zion Lutheran Church in Manawa.  He worked at Badger Breeders before purchasing a farm in Cecil in 1969.  Farming was his life and he enjoyed the work that it entailed.  When not farming, Eugene enjoyed Polka Dancing with his wife, reading westerns and bowling with his family and friends.  He was an avid Cubs fan, the president of the Sunday night couples league at Lakeshore Lanes and a member of St. Paul School Board.
Eugene is survived by: his loving wife of almost 55 years, Bonnie; three sons, Randy Rusch, Rick Rusch and Ron Rusch; one daughter, Connie Rusch; three grandchildren, Russ, Renee and James; two great-grandchildren, Brendan Howard and Audrie Mueller; nephews, Gary (Jenny) Rusch and their children, Abby and Zack and Greg (Beth) Rusch and their children, Sam and Jack;  nieces, Ginger Hamann and her children, Hunter and Mason and Gina (Tim) Gueller and their children, Ty and Ali.
He was preceded in death by his parents and siblings, Larry, Dennis, Connie and Donna Mae.
Funeral services will be held at 11:00 am on Saturday, September 16, 2017 at St. Paul Lutheran Church in Bonduel. Burial will be in Woodlawn Cemetery in Shawano. Visitation will be at the church on Friday from 4:00 – 8:00 pm and again on Saturday from 10:00 am until the time of the service.