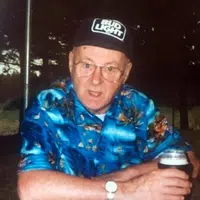 Roland "Turk" Block, age 91, of Tigerton passed away Sunday, September 10, 2017 at the Homme Home of Wittenberg.
Roland Walter Block was born on May 7, 1926 in Tigerton to Hugo and Madeline Block.  He entered the U.S. Navy and served during WWII.  Turk was united in marriage on June 2, 1973 to Clarice M. Hansen-Anderson at Zion Lutheran Church, Tigerton.  The couple made their home in Tigerton for many years.  Turk worked as a green inspector / lumber handler at Tigerton Lumber Mill for over 40 years.  In his early days, he liked fishing, bowling, and playing softball in the Tigerton area.  Turk was always an avid fan and supporter of Tigerton Baseball.  He especially enjoyed watching the New York Yankees and sharing a cold Bud Light with friends.  Turk was a longtime faithful member of the American Legion Post #239.  He was well known in the Tigerton community.  You would often see Turk sitting on the bench outside of Mr. J's Barber Shop or shoveling and doing lawn work for several local businesses.  His wife preceded him in death on November 14, 2014.
Survivors include five step sons; Allen (Darlene) Anderson of Tigerton, Ronald (Stacy) Anderson of Tigerton, Dennis Anderson of King, Michael (Darlene) Anderson of Sale Creek, TN, and Darell (Mary Ann) Anderson of Plymouth.  There are 11 step grandchildren; Heidi Anderson, Heather (Edward) Stewart, Holly (Lucas) Gehrman, Shelly (Mark) Sambs, Sara Anderson, Eric Anderson, Andrea Anderson, Nathan (Brandi) Anderson, Sherry (Jay) Bindrich, Shannon Hickey, and Shawn (Diane) Hickey.  There are 18 step great grandchildren; Jordan (Amber) Arndt, Tasha Arndt, Tabby Arndt, Aaron Dobizl, Tanner Dobizl, Olivia Anderson, Ashley (Cody) Scray, Trevor Stewart, Teagon Stewart, Treyton Sambs, Sienna Sambs, Keiden Sambs, Alexis Minniecheske, Colton Minniecheske, Deanna Anderson, Kylie Anderson, Autumn Rhodes, and Blaine Rhodes.  He is further survived by a brother, Elmer Block of Wittenberg; and many other relatives and friends.  Turk is preceded in death by his parents, his wife Clarice, a step daughter-in-law Lois Anderson, a sister Anita (Wallace) Kielblock, and a brother Edward Block.
A Memorial Service will be held on Sunday, September 17th at 12:30 PM at the Homme Home Chapel, Wittenberg.  Pastor Barry Levine will officiate and inurnment will be at Union Cemetery, Tigerton.  Military Honors will be provided at the nursing home by members of the American Legion Post #239, Tigerton.  Friends may call on Sunday from 12:00 Noon until time of the service at Homme Home.  The Beil-Didier Funeral Home, Tigerton, is assisting the family.
The family wishes to especially thank all the nurses and staff at Homme Home for all the compassionate care given to Turk.  For many years, he was treated with such dignity and respect.  Turk very much considered you guys his family.  Our words cannot express how grateful we are for all the care provided.