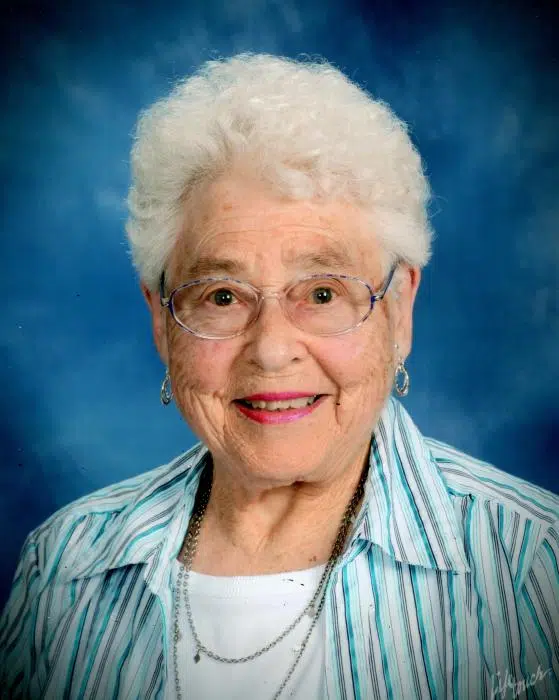 Eldora H. Krueger, age 92 of Marion, passed away Sunday morning, September 10, 2017 at ThedaCare Medical Center, Shawano surrounded by her family.
Eldora Hilda Krueger was born June 14, 1925 in the Town of Union, Waupaca County, the daughter of the late Emil & Hilda (Johnson) Durkey. The family moved to the Clintonville area where she started school, later moving to Manawa, and eventually settled in Marion. Eldora was united in marriage to Ernst Krueger on May 28, 1942 in Marion. The couple lived with Ernst's parents in the Town of Dupont and later moved to Marion where they have lived since. Eldora was a current member of St. John's Lutheran Church, Marion; she was also a member of the VFW Ladies Auxiliary #8770, Big Falls. She enjoyed hunting and fishing in her younger years and was proficient at dressing deer and cleaning fish. Eldora loved to eat fish; so much so that her family called her an "otter." She also had a passion for gardening, made evident by the tending of her huge garden every year. The garden produced an abundance of both vegetables, which Eldora canned, as well as flowers. She was known for her beautiful Gladiolas which would grow in many different colors. Many times people would pass by and see the flowers and offer to buy them for their weddings. More recently, she really enjoyed playing dart ball at the senior center. Eldora will be remembered as a loving mother, grandmother, great-grandmother, great-great-grandmother, and friend.
Survivors include:
Daughters: Connie Hoffmann, Tigerton
Julie Krueger, Marion
Sons: Melvin (Jane) Krueger, Clintonville
James O. (Diane) Krueger, Caroline
Grandchildren: Sheryl (Tom) Kraeger, Caroline; Brian Krueger, Waupaca; Larry and Lonnie Krueger, Shawano; Lyle Krueger, Marion; Stacey & Michelle Krueger, Caroline
Great-grandchildren: Amanda, Autumn, Jared, & Tanner Krueger; Justin (Tiffany) Kraeger; & Karah (Joey) Taycher
Great-great-grandchildren: Jeremiah & Kyleigh Kraeger
Sister: Florence Helms, Marion
Brother: Herman (Betty) Durkey, Tigerton
Eldora was preceded in death by her parents; her husband, Ernst; two infant twin boys; & a brother, Kenneth.
Funeral services will be held 11 AM, Wednesday, September 13, 2017 at St. John's Lutheran Church, Marion with the Rev. Beth Macha officiating. Interment will take place at Roseland Cemetery, Town of Dupont.
Friends may call at the church on Wednesday from 9 AM until the time of the service.
The family would like to thank Eldora's very special friends: Esther Gerlach, Sandy Zagorski, Sheila Weiler, & Paula Krueger for all of their loving support over the years.
The Eberhardt-Stevenson Funeral Home & Crematory, Marion is assisting her family.