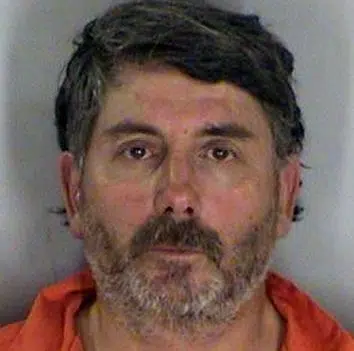 Multiple charges have been filed against a New London man who allegedly opened fire, striking an officer during a standoff last week. 62-year old James D. Dax is facing multiple charges, including six counts of attempted first degree homicide, first degree reckless endangerment, battery to an officer, making terrorist threats and possession of explosives. The incident occurred Friday afternoon on Manske Road in the Town of Mukwa. Officials reported that a bomb squad joined 48 officers, and one officer was wounded by what was assumed to be Dax's gunfire.
Police reports indicate that Dax's wife contacted police weeks earlier to inform them that she was left her home out of fear of Dax. The report also stated that she reported that she was physically and verbally abused many times. Officers attempted to reach Dax that day, but he refused to speak with officers and was charged with aggravated battery and disorderly conduct. Officers continued to investigate the situation after a warrant for his arrest was issued that day.
A second report came in on Thursday from Dax's wife. In that call, she indicated that Dax took a handgun that she purchased for protection and mentioned that Dax had homemade Molotov cocktails by putting gas in soda bottles and stuffing paper in the opening as a an explosive device. The police report stated that Dax had made threats of violence towards officers in a form of a email sent to the FBI a week earlier. In a second email, Dax wrote "Hell is about to start". Officers arrived on scene and ordered an evacuation of area residents on Friday.
Officers attempted to persuade Dax out of his residence, but were unsuccessful. After breaking down the door and deploying pepper spray, officers found that Dax retreated to the attic and barricaded himself. A flash-bang kicked up dust and debris, making it hard for officers to see. According to the report, Dax opened fire and one officer was shot and suffered damage to his eardrum.
Dax was eventually arrested and held on a $5 million dollar cash bond. The officer was taken to the hospital with non-life threatening injuries and was released from the hospital Friday evening. It is not known when that officer will be able to return to work.