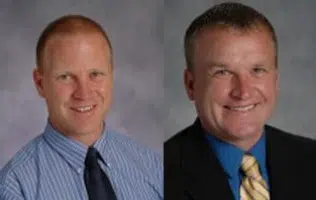 Margelofsky Steps Away From Principal Back To Classroom
Changes are still being made in the Bonduel School District with more resignations happening before the first week of school. The changes have included a shake-up with Administration. A sixth-grade teaching position opened days before the start of school. Middle/High School Principal Mark Margelofsk asked the school board if he could step down from Administration and take over the 6th grade position.
"He felt a strong desire to get back into the classroom" District Administrator Patrick Rau said. "Ultimately, that is best for the kids since he is an excellent teacher."
Rau is returning back to a principal role, but will also remain as District Administrator. Rau was a High School principal prior to moving to Superintendent, but the dual role will have its pressures.
"It is going to be busy" Rau said. While it is just a temporary role, Rau said some of the long term projects will get pushed back, so he can focus on the day to day operation.
"Some of our larger goals have to get put on the back burner" Rau said. The District will use administrative staff and the help of a Dean of Students to assist for the time being.
Bonduel also accepted a resignation of a choir teacher. For now Band teacher Tim Treptow is taking the dual choir and band roll until a longer term solution can be found.