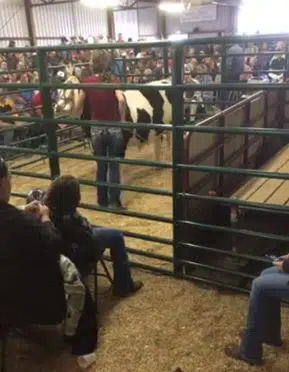 The 7th annual Shawano County Holstein Dairy Futurity will be held Saturday at 7:30 p.m. in the coliseum on the county fairgrounds.
The event features three breeds of 14 animals that will be exhibited. It's a great event for all involved and rewards the hard work of those showing.
"The exhibitors get to dress in formal attire and then the audience gets to vote on whom they think is the best dressed male, female and junior owned animal, as well as the individuals and the exhibitors receive cash prizes for their dedication and determination to the dairy industry," explained Jeannine Rasmussen of the Shawano County Holstein Association.
The exhibitors will get creative and pertain to this year's theme The Heart of Dairy.
"Many exhibitors do different things," Rasmussen said. "We have hearts on their chains they will be wearing around their neck, as well as a lot of things doing with the heart of dairy in the showring as well as the beautiful decorations that will be in the coliseum."
The cows that are being shown are three years of age, but were first entered when they were three months.
The Shawano County Holstein Association will also be offering a potato bar with all the fixings to satisfy your heart healthy dairy cravings.
A member of Rural Health Initiative will also have a representative available to talk heart safety.
The event begins with an auction at 7 p.m. to benefit the Shawano County 4-H dairy activities.
TCHDailyNews.com Photo: Friday night's animal market sale