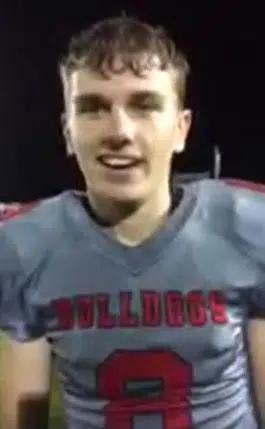 Only a few weeks ago after tearing his meniscus, there was question to how much time Parker Fermanich would miss of his senior season. After missing just the first two weeks, the first-team all-conference receiver had a season debut for the record books, helping New London to their first conference victory in a 35-14 win over Waupaca.
"They said I was going to be out until next week and when I had the surgery, I felt really good afterwards," Fermanich said about his injury. "I was pushing myself just to get back this game. People were saying I probably wouldn't, but I knew I could."
Fermanich set the school's single-game receiving mark when he hauled in seven passes for 223 yards, breaking the previous record of 210. He also had three touchdowns.
"It feels great," he said after achieving the school record. "But I always tell my offensive line all night that they had the best game I've ever seen them play so far, my quarterback and my defense stopping them. It was a good team game. I couldn't have done it without my teammates."
New London started the scoring in the first quarter when Jack Noffke connected with Fermanich from 48 yards out. Fermanich followed that with a 21-yard touchdown reception to push the lead to 14.
The New London advantage ballooned to 21 after the first play of the second quarter. It was a 35-yard interception return from Garrett Ruckdashel to put the Bulldogs in control.
Waupaca first got on the board with a 24-yard touchdown scamper by Brenden Canterbury, but a 54-yard strike from Noffke to Fermanich set up a 5-yard touchdown connection between the two stretched the lead back to 21. They took a 35-7 lead into halftime.
"He's our big play threat," said New London head coach Marc Marsh of Fermanich. "It's tough, we separate him and isolate him so teams have to cover him one-on-one. If they're going to double up or do something that should open up the run a little bit more, so he's definitely a big part of [the offense]. We had big plans for him and it's sure nice having him back."
The whole New London offense was humming to its full potential for the first time all season. Friday's victory is a step in the right direction for a team that has playoff aspirations.
"It's a total team thing," said Marsh. "Sometimes individuals get named when they get big stats, but it's totally a team thing and those guys understand that."
Jack Noffke completed 12 of his 19 passes for 262 yards and three touchdowns, five of them going for 20 or more yards. Makaio Harn led the rushing attack, carrying the ball 18 times for 83 yards and a touchdown.
Waupaca's Brenden Canterbury finished the night with two total touchdowns. He rushed for 71 and threw for 53.