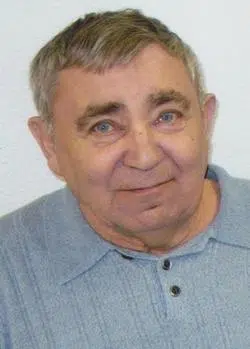 Leon C. Krause, age 81, of Shawano, passed away peacefully on Wednesday, August 2, 2017 with his family by his side. His daily struggles are now over and he is at peace with his Lord.  He was born February 8, 1936 in Chilton to the late Clarence and Esther (Lindner) Krause.  He attended Shawano High School, graduating in 1954.  On May 25, 1957, he was united in marriage to Marilyn Raddant at St. James Lutheran Church.  He worked as a carpet installer until his retirement.  In his younger years, he enjoyed bowling, fishing, camping and dancing.  Leon was an avid Green Bay Packer, Milwaukee Brewer and Wisconsin Badger fan.  He enjoyed playing cards with his friends and church group, cutting wood with grandchildren and loved to plant his flowers.  Leon was a loving husband, father and grandfather.  His family loved him dearly and he will be sadly missed by all who knew him, including his cat Tanner.
Leon is survived by: his loving wife of 60 years, Marilyn; three daughters, Debbie (Jim) Woeshnick of New London, Diane Hintz of Shawano and Marilee (Jeremy) Bruns of Shiocton; six grandchildren, Lisa (Greg) Samson, Sara (Jeromy Van Dyke) McKenzie, Eric (Brittany) Hintz, Katie (Timmy Welch) Hintz, Natasha (Robbie Ramos) Ferguson and Sabrina Sherer; five great-grandchildren, Connor, Brady, Chace, Blake and River.  He is further survived by three nephews, Scott, John (Michelle) and Dan Krause; close family friend, Tiffany Ross and former sister-in-law and close family friend, Ruth Ann.
He was preceded in death by: his parents, Clarence and Esther; brother, David; son-in-law, Patrick Hintz; and his nephew Dan's wife, Jill.
Funeral services for Leon will be held at 3:00 pm on Monday, August 7, 2017 at Swedberg Funeral Home in Shawano with Rev. Steve Conradt officiating. Burial will be in Friendship Cemetery in the Town of Belle Plaine.  Visitation will be held at the funeral home on Monday from 1:00 pm until the time of the service.  A celebration of life will be held on Sunday, August 20, 2017 from 1:00 pm until 5:00 pm at the Richmond Town Hall.