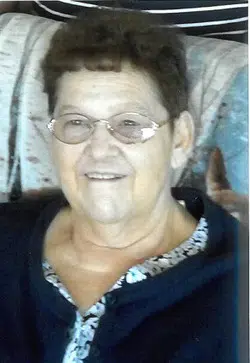 Sandra G. Herter, age 74, New London, loving mother, grandmother and great-grandmother passed away into Gods loving arms surrounded by her family on Monday, July 31, 2017.  She was born on July 6, 1943, in Wisconsin Dells daughter of the late Phillip and Ruby (McFaul) Larsen.  On April 28, 1962, she was united in marriage to Terry Herter at Emanuel Lutheran Church, New London; where they were life long members.  Sandy was very proud of starting the Waupaca County Nutrition Program with her sister, Mickey Stafford and her many years as Senior Director of the New London Senior Center.  She loved getting her family together for cookouts, card playing and dice, watching her birds out the front window and decorating the whole inside and outside of the house for every holiday.  She was Grandma Sandy to all the neighborhood kids in Northport and New London.
She is survived by her husband of 55 years, Terry; daughters, Peggy Herter, New London; Pamela Arevalo, New London and Patty (Rick) Strong, Manawa; granddaughters, Amy (Chris) Ailts, Bondurant, IA and Ashley (Jared) Strong, New London; great-grandsons, Blake and Devon Ailts, Bondurant, IA and Gavin Strong, New London; siblings: Mickey Stafford, Arkansas; Faye (Ann) Larsen, Janet Doughty, Janice (Ed) Moeller, all of New London and Ted Larsen, Waupaca; brothers and sisters in-laws: Marge Larsen, Appleton; Beverly (Joe) Hanadel, Shirley Claassen, Dennis Herter, Charlene (Jerry) Magolski, all of New London. Sandy is further survived by numerous nephews, nieces, other relatives and friends.
She was preceded in death by her parents, father and mother in-law, Earl (Margaret) Herter, brothers and sisters Ver Lea (Russell) Barden, Donald Larsen, Phyllis (Leo) Guyette, LaVerne Larsen and infant brothers, Jackie and David Larsen; brothers and sisters in-law, Jeffery Herter, Arden Claassen, Debbie Herter, David Doughty and Sam Stafford.
Funeral services for Sandy will be held on Thursday, August 3, 2017 at 10:00 a.m. at Emanuel Lutheran Church, New London with Rev. Marcus Schulz officiating.  Burial will be in the Northport Ostrander Cemetery, Town of Mukwa.  Visitation will be held at the church on Thursday from 8:30a.m. until the time of service.
In lieu of flowers a memorial is being established.
The family would like to thank the staff of Kindred Hearts for all the care given to Mom and also all the ThedaCare Hospice nurses and caregiver; especially Sarah Bloehm and Marie Barker.