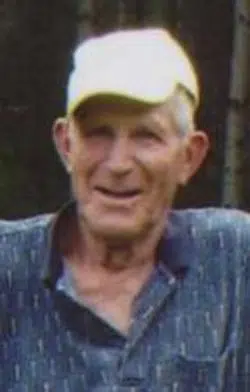 Marshall F. "Mike" Moede, age 85, of Shawano, passed away on Tuesday, June 27, 2017 in Appleton. Born on May 15, 1932 in the Town of Herman, Mike is the son of the late Gustave and Leona (Peterman) Moede.  He was drafted into the United States Army during the Korean Conflict, receiving the Purple Heart before his honorable discharge.  On June 9, 1956, Mike was united in marriage to Beatrice Suehring.  He farmed in the Town of Breighton for 11 years before working at FWD in Clintonville.  Mike was a member of the V.F.W., the American Legion, D.A.V., and St. James Lutheran Church.  Mike liked listening to polkas and country music and grew and sold Christmas trees and pumpkins.  He was an avid fan of the Green Bay Packers, Wisconsin Badgers and the Shawano Hawks, making many trips to state.   In his free time, he enjoyed cutting wood, hunting, trout fishing, golfing, reading, playing cards and going out to dinner.
Mike is survived by: his wife of 61 years, Beatrice; six siblings, Mae Krueger of Shawano, Ann Krause of Shawano, Elaine (Ray) Midkiff of Ohio, Patti Moede of Oshkosh, James (Nancy) Moede of Marshfield, and John (Delia) Moede of Philippines; one brother-in-law, Kenneth (Dorothy) Suehring; and two sisters-in-law, Doris Biersdorf and Bette (Ben) Rindt.
He was preceded in death by: his son, Jeffrey; his parents; and six siblings, Louise Berger, Isabelle Maltbey, Charlotte Heinz, Lucy Johnson, Orvis Moede, and Gordon Moede.
Funeral services for Mike will be held at 1:00 pm on Thursday, July 6, 2017 at St. James Lutheran Church in Shawano. Military honors will follow the service outside of the church. Inurnment will be in the Woodlawn Cemetery. Visitation will be held at the church on Thursday from 11:00 am until the time of the service.
Swedberg Funeral Home is assisting the family.