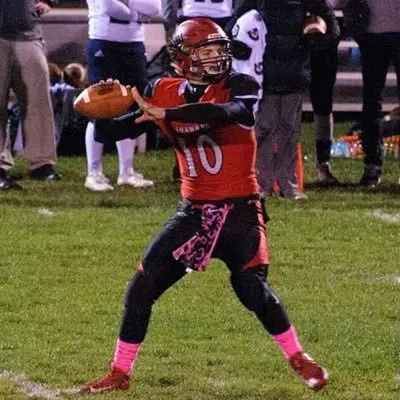 Former Shawano Hawks quarterback Jack Hanauer knows how to make the most of his opportunities, both on the field and off.
When Hanauer reached out to the University at Buffalo football team last week, he was presented with another opportunity. Because of a transfer, the team recently had an open roster spot available for another quarterback.
"We sent an email to [the university] and they emailed right back and they said they were looking for another quarterback," Hanauer said of the happenstance. "They invited me on a visit, so we came out there last Friday, went out for a visit and it was really impressive. I'm really excited for it."
As a dual-threat quaterback, Hanauer put up impressive numbers during his senior year in 2016, combining for 2,235 yards rushing and passing (best in the Bay Conference) while totaling 28 touchdowns.
Hanauer had kept patient and confident with his recruitment process until this point. Most athletes have already signed with their respective schools they will be playing for in the fall, but he credits a number of factors like the coaching staff, which has strong ties to Wisconsin.
"You definitely get antsy," he said of waiting this long before committing. "It's starting to get towards the end of the process here, but it was really nice to get this kind of opportunity this late."
"The coaching staff is from Whitewater, so they've been around this area for a while, they know it. They're really good guys, the school is really nice, the facility is really nice and then also playing at the highest level of college football."
Hanauer will be a preferred walk-on and added that Buffalo wasn't the lone FBS school that was involved with his recruitment. He had also been in contact with the University of Illinois, the school that rivals the Wisconsin Badgers in the Big Ten Conference, but talks eventually broke down.
Some speculation can be made that was in part due to the knee injury Hanauer suffered in Shawano's last game of the season. Still, he refused to settle.
"For Jack, it just kind of speaks to his personality and the type of person he is," Shawano Head Coach Al Tomow said of Hanauer's odd timeline. "He's got a stubbornness that really works well with him and makes him really competitive, but he's also persistent. After he had the knee injury, maybe some schools backed off or some opportunities didn't come up that maybe would have, but he stayed with it. He believed in his abilities and he should. We're excited for him. We're proud of him as a coaching staff, as a community and I think he's going to do well."
The University at Buffalo is an FBS school that plays their games in the Midwest Athletic Conference, the same conference as Northern Illinois University which also has a former Shawano graduate in Zeke Gueths, who helped protect Hanauer on the offensive line.
"I'm pretty excited," Hanauer said of what it'd be like to play against his former teammate. "We actually talked about it last night and we're already starting to talk."
Hanauer contends his dream was to always play in the highest level of college football and this opportunity fulfills that goal.
"As far as the preparation, the system is really similar to what we ran here," Hanauer said. "It's definitely going to be a transition speed-wise, but a lot of stuff will line up the exact same as what we ran here."
It's unlikely Hanauer will be expected to start as a true-freshman, but he's eager to get in, learn and work his way up the depth chart.
"It helps going in and getting into a strength program and a program like that," Hanauer said. "My goal is to go there and compete and see how high I can get on the depth chart and play as soon as possible."