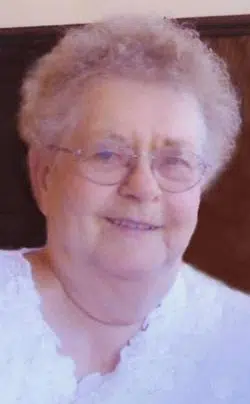 On Monday, June 26, 2017, the Lord called Doris Mae Kroenke to her eternal home at the age of 91. Doris was born in Clintonville on November 9, 1925, the daughter of the late William and Emma (Schauder) Schmidt.  She was baptized in June of 1926 at her parent's summer cottage.  Doris lived in the Clintonville and Shawano area all of her life and was confirmed in 1939 at Christ Congressional Church.  On July 29, 1962 she was confirmed at St. James Lutheran Church in Shawano by Pastor Parsch.  On September 8, 1962, Doris was united in marriage to Kenneth M. Kroenke at St. James Lutheran Church.  Doris worked as a bookkeeper at Pine Manor for 18 years and was active with the St. James Ladies Aid.
Doris is survived by: her loving husband of nearly 55 years, Kenneth; three children, Sandra (David) Huebner of Belle Plaine, Sheryl Martinez of New York and William (Marilyn) Kohnke of Caroline; two grandchildren, Kenneth (Cindy) Huebner and Terresa (Steve Neumeier) Huebner; three great-grandchildren, Jason (Jill) Wesenberg, Cheri (Al) Weier and Karalee Rose Hubble; and nine great great-grandchildren, Quinn, Casey, Kollins, Noah, Audrey, Jack, Evan, Ava and Izak.
She was preceded in death by: her first husband, James Kohnke; her parents and three brothers, Milton Schmidt, Ronald (Juanita "Bonnie") Schmidt and Eugene (Evelyn) Schmidt.
Funeral services for Doris will be held at 11:00 am on Friday, June 30, 2017 at St. James Lutheran Church in Shawano with Rev. Dr. Timm Griffin officiating. Burial will be in Riverside Cemetery in Embarrass. Visitation will be held at the church on Friday from 9:30 am until the time of the service.
Swedberg Funeral Home is assisting the family