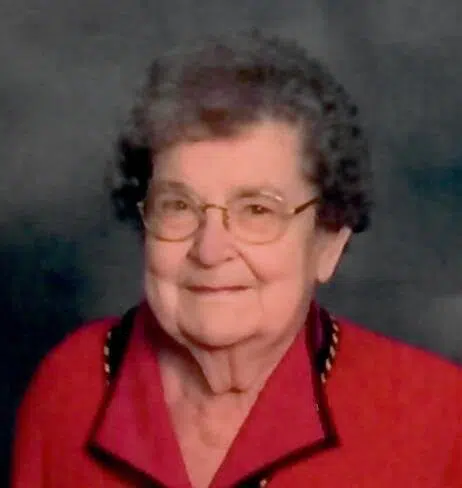 Selma Griepentrog-Neubauer, age 91, of Tigerton passed away on Saturday, June 24, 2017 at her home.
The former Selma Marie Kauffman was born on June 22, 1926 in the Town of Morris, Shawano County, to Charles and Anna (Bublitz) Kauffman.  She went to Whitcomb Grade School and then completed one year at Tigerton High School.  Selma was united in marriage on November 23, 1945 to Everald G. Griepentrog in Tigerton.  The couple farmed for some years and during that same time also operated Griepentrog Farm Equipment which was the local Allis-Chalmers dealership.  From 1961 to 1975 the couple owned the Tigerton Hotel, Ev & Selma's Café, and the Mobil Gas Station.  In 1965 they started the Tigerton mobile home park until 1981.  Her husband suffered a life changing stroke in 1975 and he preceded her in death on June 24, 1985.  Selma was married on October 12, 1991 to Elmer L. Neubauer in Tigerton.  The couple enjoyed several years together and Elmer passed away on October 27, 2000.
After Selma sold the businesses she continued helping her daughter Joan by volunteering at the Tigerton Senior Center.  She was a longtime faithful member of Zion Lutheran Church, Tigerton, where she served with the Ladies Aide, was a former Treasurer, and volunteered with countless projects.  She was a founding member of the Tigerton Advancement Association and started Girl Scouts in Tigerton.  Her interests included baking, cooking, and helping others.  For close to 32 years Selma made beautiful cakes for countless weddings.  Selma will be remembered most for her wonderful sense of humor and she always loved spending time with her family and grandkids.
Survivors include a daughter, Barbara (Everette) Spiegel of Tigerton, and two sons-in-law, Robert Frank of Tigerton and Tom Gauthier of Clintonville.  There are two step daughters, Darlene (LeRoy) Roehl of Appleton and Janice (Ron) Bonnet of Combined Locks.  There are 8 grandchildren, 13 great grandchildren, and 3 great-great grandchildren.  There are two sisters, Marge (Jerome) Henn-Alft of Tigerton and Dorothy Ostrowski of Wittenberg.  There are two sisters-in-law, Arlene Kauffman of Tigerton and Arlette Kauffman of Navarino.  Selma is further survived by many other relatives and friends.  She is preceded in death by her parents, both of her husbands; two daughters Evelyn Frank and Joan Wilkinson; one great grandson Kevin Griepentrog; and two brothers Charles "Sonny" and Kenneth Kauffman.
Funeral Service will be held on Saturday, July 1st at 11:00 AM at Zion Lutheran Church, Tigerton.  Dcn. Sharon Fox-Bogen will officiate and burial will follow at Union Cemetery, Tigerton.  Friends may call on Friday from 4:00 – 7:00 PM at the funeral home and on Saturday from 10:00 AM until time of service at the church.  Beil-Didier Funeral Home, Tigerton, is assisting the family.