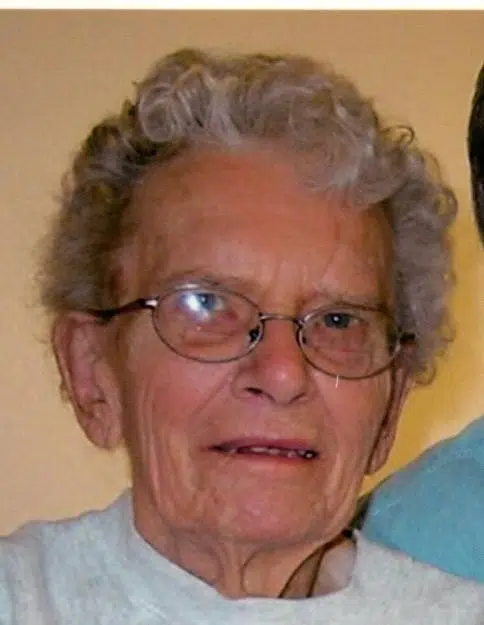 Willadeen I. Much, age 91 of Clintonville, formerly of Marion, passed away peacefully Thursday, June 22, 2017 at Kindred Hearts in Clintonville.
Willadeen Imogene Much was born August 3, 1925 in the Town of Belle Plaine, Shawano County, to the late Herman & Hazel (Zimmerman) Zabel. At the age of 7, her family moved to Clintonville where she spent her early years, graduating from Clintonville High School in 1943. Willadeen then attended the Mayo Clinic Kahler School of Nursing in Rochester, MN, graduating as an R.N. in 1947. She was united in marriage to Earl Much on December 8, 1951 in Des Moines, IA; the couple resided in Marion for all of their married life. Willadeen worked as a nurse at local hospitals, including: Shawano, Clintonville, & New London. She spent most all of her free time in the summers up at the cabin in Canada fishing; during hunting season, they spent time up north in Mercer, WI. Her other interests included gardening and picking fresh blueberries.
Survivors include:
Sister: Ramona (Kenneth) Oltrogge, Pioneer, CA
Brothers: Argil Zabel & Duane "Butch" Zabel, both of Clintonville
Sister-in-law: Marcy Zabel, Clintonville
Many nieces & nephews
Willadeen was preceded in death by her parents; her husband, Earl; & a brother Rodney Zabel.
Funeral services will be held 11 AM, Tuesday, June 27, 2017 at the United Methodist Church, Clintonville with the Rev. Jill Meyer officiating. Interment will take place at Woodlawn Cemetery, Shawano.
Friends may call at the church on Tuesday from 10 AM until the time of the service.
The family wishes to thank Kindred Hearts for the care given to Willadeen during her stay.
The Eberhardt-Stevenson Funeral Home & Crematory, Clintonville is assisting her family. An online guestbook is available at eberhardtstevenson.com.