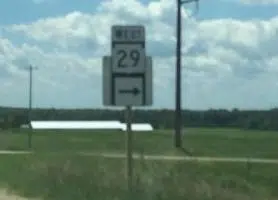 Accidents at dangerous intersections along Highway 29 have led to concern for Shawano County Officals.
Within the last year, both the Shawano County Highway Department and Shawano County Sheriff's Office have brought those concerns to the State level. Shawano County Highway Comissioner Grant Bystol said requests have been filed.
"We sent a request to the Department of Transportation urging them to perform and fastrack studies for the intersections of County F, County MMM, County U and County J," said Bystol. "The DOT is in the process of performing the study."
The DOT looks at factors like the number of crashes, property damage from crashes and the severity of crashes.
Within the last two years, multiple accidents have been reported at intersections along Highway 29, with the County U intersection being the location of multiple fatal crashes. Fatal crashes took place in October of 2016 and March of 2017. That location has also been a topic of concern by residents of Shawano County.
Many have taken to social media and addressed that location intersection as dangerous.
A small hill just to the East of County U has made it difficult for cars trying to cross Highway 29 to see what is coming.
Some have said it is up to the driver to be patient and take extra caution while crossing.  The Sheriff's Department has also sent their request to the DOT.  While many feel the County should do something, Bystol says ultimately, they can't.
"The County Highway Department is only a maintenance contractor for the DOT," he explained. "We have no jurisdiction on Highway 29. They own the right of way, and hey actually have say over the County road as it approaches Highway 29, we have zero say."
Bystol says accidents put up a flag that that the DOT will eventually look at, but that is not a quick process, and it is out of the county's hands and up to the state to figure out the best fix.
"I believe they are going to do their best to get the study completed and then make their recommendation," said Bystol. "It could be a full interchange which would be costly, or a J-turn or some sort of alteration so you don't have to go straight across Highway 29, but that will be their decision."
Sheriff Adam Bieber said he has made a recommendation to the DOT.
"Install J-turns like we have on Highway 29 near Maplewood Meats," said Bieber. "I also suggested cross traffic not be allowed and only right turns be available."
Bystol said the Highway Department filed to their request to the DOT within the last eight months.
"The ball is rolling, I don't know where we sit with the process but it not something that happens overnight."
The county has also contacted local officials of the request that they have made.