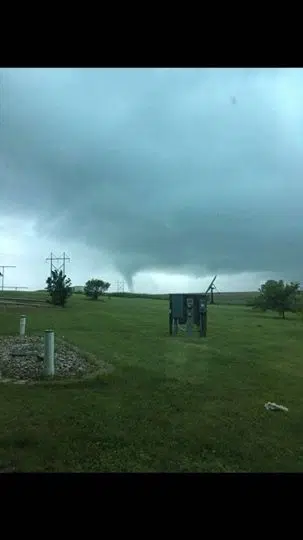 Three area Tornadoes were confirmed Wednesday, two in Shawano County. One tornado was said to have touched down West of Pulaski near Angelica, the other touchdown came from the same cell, and occurred Southeast of the Navarino Wildlife area, and the Gresham area also had a late confirmed tornado.
Tony Carrow's home survived the Angelica area tornado, but many of his possessions were spread hundreds of yards down the road from his home off of County F.
"My chicken coop is gone, my chickens are gone. Both of my boats are crunched like aluminum cans and my trailer is smashed" Carrow said as he started assessing what was missing.
Carrow said the tornado hit just as he got back home from work.
"I could actually see the rain start to swirl. I took off out of the driveway and made it across Highway 29 and watched and waited. I came back home and this is what I get to come home to."
"This is the closest thing I have come to that was this dangerous."
According to the National Weather Service, at around 1:50 p.m, they received reports from law enforcement of a tornado touching down near Highway VV, five miles west of Keshena, but that was determined to be just a funnel cloud that never touched down. Still it was scary for those who saw it.
"It rained so hard you could barely see the road in front of you," said Duane Hafner, a Shawano resident who was caught in the storm in Middle Village. "The clouds were turning and twisting so bad that when you got to the edge of the storm something bad was going to happen, I just figured it. I got to the edge and went up by the Sperberg Farm and I watched the storm cross Broadway. The storm was really intense at that time."
Other damage in the region was reported in both Green Bay and Appleton. Fox Valley was hit hard and debris came from the Appvion Warehouse in Appleton. The roof blew off of a car wash in Kimberly. Trees and power lines were reported down all over Shawano, Waupaca, Outagamie and Oconto County. Many are still without power due to the storm.
Here are the current power outages from 
According to Shawano County Emergency Management, Eastern Shawano County is received a significant amount of rainfall and  road conditions are hazardous with some reports of damage to primary and secondary roadways. The public is being asked to avoid this area until further notice. The Shawano County Highway Department and Local Towns are monitoring these situations.
A temporary reception center has been established at the Town of Lessor Town Hall for displaced residents.
Any residents in need of services are asked to report to the Town Hall located at W4055 Landstad Road.
Shawano County Sheriff Adam Bieber said it is important for those who suffered any damage to report it.
"We would appreciate it if folks call us if we have not been to your residence yet" said Bieber. "It is also important to check on your neighbors and make sure you report if anyone is missing."
Tornado Damage June 14, 2017
Angelica/ Pulaski Tornado
Angelica / Pulaski Tornado
Angelica / Pulaski Tornado
Angelica / Pulaski Tornado
Angelica / Pulaski Tornado
Many Areas Are Underwater; Flooding Is A Concern
Many areas experienced extensive flooding following the heavy rains from the storm Wednesday afternoon. The park between Prospect Circle and Valley Lane in Shawano was completely submerged with water and many yards and basements were left with standing water.
There were multiple homes and roads along Shawano Lake in the Town of Wescott and Village of Cecil that also have seen considerable flooding and standing water, specifically along Bergs Road and Resort Road next to the lake.
Wednesday evening, water was rushing over the top of Meadow Road off of State Highway 22, completely covering the roadway with anywhere from three to five inches due to the dip in the road.
Motorists should always use caution if forced to drive through flooded roads and are encouraged to never pass through standing water that's at least four inches deep.