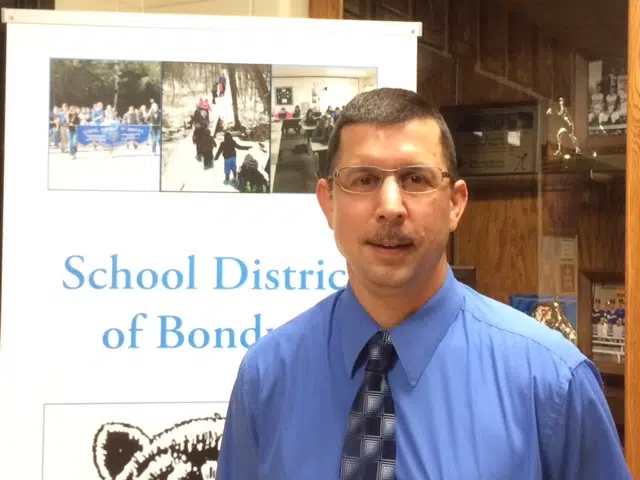 Brad Grayvold Comes From Michigan
Bonduel School District will start the 2017-2018 school year with two principals. After Elementary School Principal Peggy Jones announced her retirement, and High School Principal Jane Wonderling resigned her position, the Bonduel School Board restructured the district classes and buildings, and hired a new Elementary Principal.
Brad Grayvold was approved for the position by the Bonduel School Board on Monday, after spending 13 years as a principal in the Norway Vulcan School District in Michigan. Grayvold has been in education for 27 years, and said the move to Wisconsin came at the right time.
"I knew that when our youngest daughter graduated, that was going to be when we wanted to move to the Wisconsin. Grayvold said his children are all in Wisconsin, but that was not the only reason for the move to Bonduel.
"This is a school district that has had a strong tradition of high quality education" Grayvold said. "We are familiar with the area and this district has strong community support."
Grayvold said that is shown by the effort that many are putting into sharing information to help an August Operational referendum pass on its second go around. "I know that there are people here that are dedicated to the school and their profession, and I think they are looking at this as an opportunity to go after continuing that strong tradition that they developed here."
The whole referendum process is not foreign to Grayvold. He said as an administrator, he was part of two successful bond proposals in his district.
Along with his time in education, Grayvold also found an interest in broadcasting sports on radio. In his spare time, Grayvold was an announcer for Frog Country Radio in Iron Mountain Michigan. The station is part of the same Results Broadcasting company which owns TCHDailyNews.com, WTCH AM/FM and Frog Country 92.3 FM in Shawano.
Grayvold attended his first school board meeting on Monday, where he was officially welcomed by the board. He will be making his move to the Bonduel area this summer, and will spend some time learning from Peggy Jones before taking over.
"Peggy Jones has done a wonderful job being a leader in the district , and I want to keep that going while working with staff, students and parents to provide the best high quality education we can. I am excited to be here."
While the School Board has not officially approved the contract , the plan is to hire current Middle School Principal Mark Margelofsky as the 7th through 12 grade principal, and still plans to look into hiring a Dean of Students.