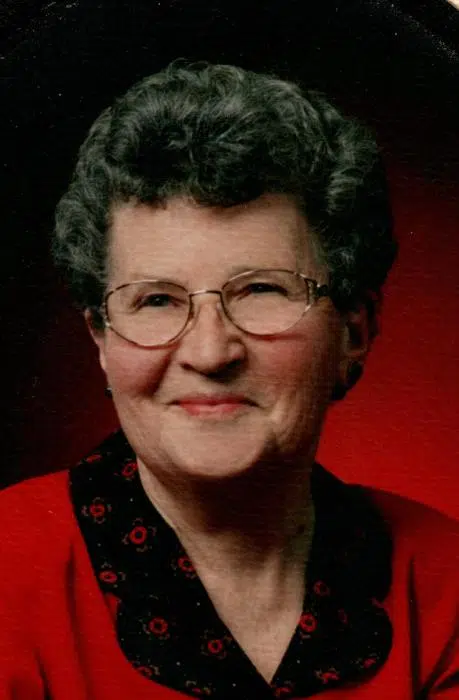 Ruth L. Koeller, 87 of Appleton, formerly of Embarrass went to be with her Lord on Wednesday, June 7, 2017, at her residence at Brewster Village.
Ruth was born September 17, 1929, in the town of Union, Wisconsin to Carl and Etta (Krieser) Henschel, the 4th of 5 daughters. She grew up on a farm south of Clintonville on Hwy 156 and attended grades 1-8 at Evergreen School also on Hwy 156. After 8th grade she worked as a mother's helper in different homes. On April 24, 1948, she was united in marriage to Hugo Koeller at Christus Lutheran Church in Clintonville. Their first home was located 2 miles east of Embarrass on a farm owned by her new father-in-law, Edwin Koeller. They lived there until 1950 when they moved to an apartment on 12th Street, Clintonville. Shortly after, they moved to Morris Cheese Factory. In 1952, they bought a lot from Harold Koeller and built their first new home on High Street in Embarrass. In 1960, they moved into a house on Elm Street, Embarrass where she lived until November, 2014. In 1959, Ruth worked for Favia's Supper Club at the Clover Leaf Lake, which is now called Lake Aire. She then worked for Hanson Glove Factory, Clintonville Canning Company, Embarrass Upholstery Company, and worked with her husband, Hugo, for 20 years as a custodian for Longfellow School from October, 1971, until her retirement in October, 1993. Her walk with the Lord was life-long. She was baptized at St.Paul Lutheran Church in South Dupont, Town of Dupont, WI on Nov 17, 1929; Confirmed: at Christus Lutheran Church in Clintonville on May 28, 1944, and a member of Zion Lutheran, Embarrass since 1947. After retirement, she continued to be active in her church, as a member of the Ladies Aid, Altar Guild, Friendly Aids, and Stewardship Committee. She enjoyed gardening, cooking, embroidering, and reading her daily devotions. She loved Bible studies, playing Canasta, and spending time with her children and grandchildren.
She is survived by her sisters, Margaret Strohmeyer, Florence Klitz, Arlene Retza, one sister-in-law, Ethel Koeller, and her 6 children, Shirley Piotraschke , Golden Valley, Arizona; Carl (Lucy) Koeller, Appleton; Joanne (Bill) Wengeler, Merrill; Rev. Martin (Linda) Koeller, Combined Locks; Susan (Frank) Koroch, Appleton; and Ray (Debbie) Koeller, Appleton; 18 grandchildren, and 9 great-grandchildren and many nieces and nephews.
Ruth was preceded in death by her husband, Hugo on March 13, 1991, sister, Leila Wollenberg , 6 brothers-in-law, one sister-in-law, a son-in-law, Gordon Piotraschke, grandson-in-law, Jeremay Buol, and niece, Mary Wollenberg.
Funeral service for Ruth will be Saturday, June 17, 2017 at Zion Lutheran Church, Embarrass with Rev. Todd Jerabek, officiating. Visitation will be held at the church on Saturday from 9:00 – 11:00 a.m. until the time of service. Burial will be at Zion Lutheran Cemetery in Embarrass. Memorials may be made out to the Zion Lutheran Endowment Fund. The Eberhardt-Stevenson Funeral Home & Crematory of Clintonville is assisting her family.