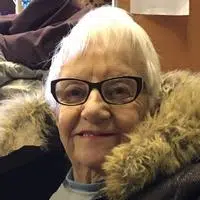 Arlene "Squirt" Kresl, age 84, of Clintonville passed away on Monday, June 5, 2017 at Kindred Hearts, Clintonville.
The former Arlene Rose Guyer was born on August 31, 1932 in Clintonville to Fred and Ruth (Fleischer) Guyer. She grew up in Clintonville and graduated from Marion High School in 1950. Arlene was united in marriage on July 28, 1955 to Delmer "Del" J. Kresl at St. Mary's Catholic Church Parsonage in Leopolis. From 1969 to 1971 the couple owned and operated Fisherman's Luck in Wisconsin Dells. After that Arlene and Delmer returned to the area and owned a bowling alley in New London until the mid 1970's. Arlene's husband preceded her in death in 1976. She was employed by the Lyle Henschel Insurance Agency, Marion, from the early 1980's until 1995.
In her early years, Arlene volunteered as a Girl Scout Leader in Milwaukee and she also enjoyed camping and visiting dozens of National and State Parks. Her trips around our country took her to most of the states including Alaska. Arlene was a longtime member of Christ Congregational UCC, Clintonville, where she had taught Sunday School and served on the Church Council. She was a lifelong prolific reader enjoying weekly trips to the Clintonville Public Library and just as recently as two weeks ago. Arlene was blessed with many good friends who were always there to provide loving companionship.
Survivors include two sons, Mike (Anne) Kresl of Suamico and Steve (Amy) Kresl of Eagle River. There are four grandchildren, Kendel Kresl of Chicago; Jordan (Rylee) Kresl, Chase (Anastashia) Kresl, and Adam Kresl of Eagle River. There are two great granddaughters, Talia and Myals Kresl; and many other relatives and friends. Arlene is preceded in death by her parents, her husband Delmer, a daughter Kathleen Kresl, a sister Betty Krueger, and a brother Jack Guyer.
Memorial Service will be held on Saturday, June 10th at 12:00 Noon at Christ Congregational UCC, Clintonville. Rev. Jill Meyer will officiate and inurnment will be at Graceland Cemetery, Clintonville. Friends may call on Saturday from 10:30 AM until time of service at the church. The Beil-Didier Funeral Home, Clintonville, is assisting the family.
The family would like to extend a heartfelt thank you to the staff of Synergy Home Healthcare for helping us to keep Arlene in her home and to the staff at Kindred Hearts for assisting Arlene over the past week.