Sumnicht and Henning Win Athlete of the Year Awards
On a  unanimous vote by the Shawano coaches, Dylan Sumnicht and Saige Henning were the winners of the Shawano Athlete of the Year award. Sumnicht and Henning both competed in two sports during their Senior season. Sumnicht played Football and Baseball, Henning played Volleyball and Softball.
Martzke Award Winners
Courtney Rouse and Jack Hanauer
The Martzke Award is given to the Seniors who best display a dedication and love of sports at Shawano High School
Scholar Athlete of the Year
Colleen McFarlane and Dylan Sumnicht
The Scholar Athlete of the Year is a combination of success in the classroom as well as in the game.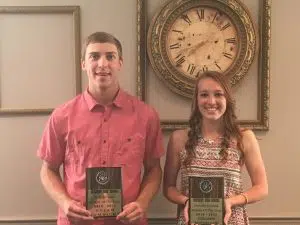 Girls Soccer
Most Valuable- Colleen McFarlane
MVP-Defense- Savannah Johnson
MVP-Offense- Lindsey Roloff
Most Improved- Sophia Holstrom
Boys Golf
Most Valuable Player- Joshua Mueller
Most Improved- Tyler Buerman
Team Captain- Joshua Miller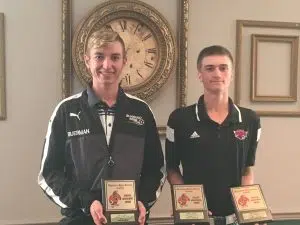 Track and Field
Al Hartman MVP: Tyrell Hesse & Christa Cummings
Most Dedicated: Payden Buck & Alice Hoffman
Team Captain: Michael Mault & Carrie Young
Rookie of the Year: Michael Klement & Elizabeth Dillenburg
Best All Around- Parker Pues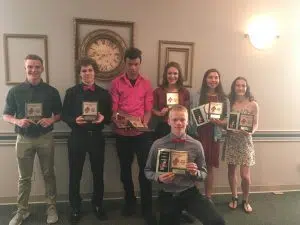 Boys Tennis
Most Valuable Player- Chris Black and Levi Johnson Doubles Team
Most Improved- Adam Pientek
Team Player- Chris Black
Coaches Award- Harrison Sturycz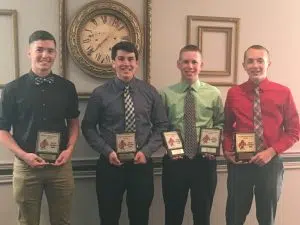 Baseball
Most Valuable Player- Dylan Sumnicht
Defensive Player of the Year- Kasey Kristof
Offensive Player of the Year- Connor Klish
Most Improved- Cole Nelson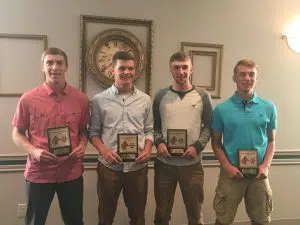 Softball
Most Valuable Player- Saige Henning
Golden Glove- Sarah Petry
Silver Slugger- Saige Henning
Most Improved- Katelyn Hoffman
Coaches Award- Mikaela Selle