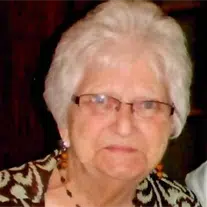 Alma Mathilda Viola (Knitt) Krueger, age 99 passed away late Saturday evening, June 3, 2017 at her home with her family at her side.
The former Alma Knitt was born November 21, 1917 in the Town of Larabee, Waupaca County, a daughter of the late Henry and Bertha (Gast) Knitt. She attended country schools. On June 23, 1938 she was united in marriage to Albert E. Krueger in Clintonville. Following their marriage the couple lived and farmed in Bear Creek for ten years. The couple then lived in Hilbert until their retirement in 1972 when they moved to Shawano Lake. She had been employed at Tecumseh Products in New Holstein for many years.
Alma is a member of St. Jakobi Lutheran Church, Town of Richmond. She loved to travel with her husband in their motor home. She was an excellent cribbage player and enjoyed knitting, crocheting, and playing Bingo. Albert preceded Alma in death on May 1, 2000.
Left to cherish her memory are her children, Carol (Bob) Buchholz of Ashland, Lois (Max) Lemke of Shawano, Betty Beattie of Appleton, Rick (Kathy) Krueger of Kiel, and Donna Lopez of Shawano. She is further survived by numerous grandchildren, great-grandchildren, and great-great-grandchildren; her daughter-in-law, Sharon Krueger; her sister-in-law, Shirley Knitt; and numerous nieces and nephews. Alma was preceded in death by her son, James H. Krueger; two grandsons, Jeff Beattie and Robb Buchholz II; two sons-in-law, David Beattie and Rich Lopez; and eight brothers and one sister.
Funeral services for Alma Krueger will be held on Saturday, June 10, 2017 at 11:00 AM at St. Jakobi Lutheran Church, Town of Richmond. Pastor Travis Kleinschmidt will officiate. Interment will be in Lake Drive Cemetery, Town of Wescott. Relatives and friends may call at the church on Saturday from 9:00 AM until the hour of services.