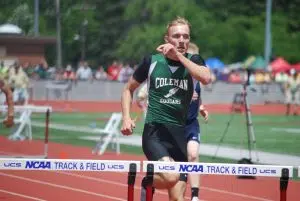 Kietlinski Takes Silver In High Jump
Bowler/Gresham's Reanne Kietlinski has had a special spring. Getting the chance to play Softball and participate in track has turned rewarding as the dual spring sport athlete took home the silver in the Girls Division 2 High Jump.
"My first jump was my best and I knew I was sitting pretty good" said Kietlinski. "I attempted 5-4 but I missed."
Kietlinski says it took a lot of schedule balancing to compete in two sports, and being All-Conference Softball and placing at State took a lot of help.
"I have done a lot of individual training with my coaches, and it is so nice to be able to compete and place."
Reanne said her coaches were flexible and understanding, which made it easier for her to find success.
Teammate Allison Stewert just missed qualifying for the 100 dash finals, but finished 9th in the 200 to extend her trip to State.
Coleman's Pillath and Patz Pick Up Where They Left Off
The power is not always in numbers. Coleman's Josh Pillath and Gunner Patz proved that last year as they scored enough points together to give Coleman a share of the Boys Division 3 Team Title. The two are in quest for a repeat performance, and started on the right foot. Pillath finished second in the Division 3 Discus.
"I popped a 157" at the end and I knew I needed to pass "156" said Pillath. "I told myself it is my last discus throw of high school and I let it fly."
Pillath also qualified for the State finals in both the 110 Hurdles and 300 Hurdles.
Teammate Gunner Patz qualified for the State Finals in the 100 and 200 Dash, but missed the podium in the Triple Jump.
Suring Eagles Soar On First Day
Suring's Katie Stegeman took 6th place in the Division 3 Girls High Jump to start the Eagles state competition.
"My original goal was five feet because it is my last meet, but I needed the 5″2 to get the podium."
Stedeman said the structure of the event also was an adjustment.
"I am used to being the last one jumping, so to sit around a watch other girls after me was an experience."
On the boys side, Will Vollmer will have a chance to become a medalist in the 100 and 200 dash that he qualified for Friday.
"I ran pretty good today but I need a better start on Saturday."
Vollmer qualified along side Gunner Patz of Coleman.
"We have been running with each other or years, but he is really fast" said Vollmer. " I have to make it count tomorrow tough because it will be the last time."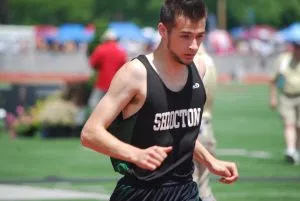 Shears Hurdles to the State Finals
"Coming into today, I was looking to hit my PR's, but that did not quite turn out" said Shears. "Tomorrow is looking like a nice day, so hopefully I can get some PR's and a first."
Shears qualified for the finals in both the 110 hurdles and 300 hurdles.