Bonduel Girls 800 Relay Team To Run In State Finals
For the first time since 2005, Bonduel has a girls relay team in the State finals. The Bears have not qualified a relay team for State since 2005's place winning season. This year, Emily Sorenson, Hayley Sorenson, Kailee Pederson and Peyton Hrabik have already made history, with one more race to go. The girls finished 7th overall in the prelims, and will have a chance to stand on the podium with a top six finish Saturday.
After advancing to State by her self last year Emily Sorenson entered this season with the goal of not being the only girl from Bonduel to qualify for state, and asked to be a part of the relay teams, setting aside the chance to run in individual events. The decision paid off as Emily now has some company, that includes her sister Haley.
"I get to have a sleepover with my four best friends in the hotel room" said Emily Sorenson. "I get to compete with them one last time."
Hailey Sorenson said missing out on State last year and watching her sister get the chance to compete made her determined to get here. Sorenson said they are focused.
"The toughest part for us is finishing through the line and passing that baton on. We had a little mishap in one race at Regionals."
That troublesome exchange cost the girls a chance to move one of their relays on, but they are all in for the 800.
Senior Kaile Pedersen spent part of the season playing softball in addition to track. The opportunity to play two sports in the same season is a recent change that some schools allow.
"Softball did not end the way I wanted it to, but it is awesome to be able to go to State for something" said Pedersen.
Peyton Hrabick is a Junior among Seniors on the relay team. Hrabick said they are going all in on Saturday, because this is the last time together.
"I am going to miss these guys" said Hrabick, "Maybe we can PR or set some records on our last run"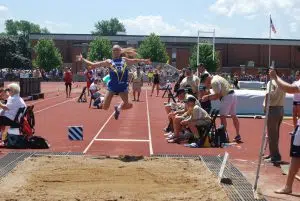 Sorenson Repeats Best Performance At State
Emily Sorenson finished 3rd in the Division 2 Long Jump, which matches the performance she had at State her Sophomore year. After finishing 8th and missing the podium last year, Sorenson was on a mission.
After scratching on her first attempt, Sorenson jumped 17-7.25 and bettered that jump on her third attempt to 17-11.75, and was in first place after her flight. Jumps of 18-6.50 and 18-0.75, dropped Sorenson down to third.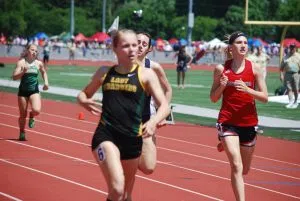 Lady Chargers Start Strong; Eyes On Title
Maddy Pietz of Wittenberg Birnamwood qualified for the finals in both the 200 and 400 dash prelims, but that was just part of the team success. Paige Norrbom qualified for the finals in the Division 2 Girls 300 Hurdles and the Lady Chargers had a strong run in the 800 relay, and finished with the second fastest time. "It really exciting, but we could not wait to get it over, because it is really hot out here" the girls responded after the run. For Pietz, she has already won 9 state medals, but only has one gold.
"The goal is the top of the podium. I need to to win these to help my team"
Pietz had personal record and set a school record in the 400 dash preliminary.
Division 2 Summary of Medal Winners and State Finalists
Becky Schroeder of Weyauwega-Fremont made it back to the medal stand, finishing tied for 4th in the Division 2 High Jump. Schroeder cleared her first four jumps without a miss, but miss three straight at 5-5. Brianna Beining of Wrightstown finished 2nd  after clearing 5-5.
D2- Girls High Jump- Brianna Beining              Wrightstown           2nd
D2- Girls High Jump- Becky Schroeder             Weyauwega              T4th
D2- Girls 800 Run- Jaci Hintz                              Freedom                   6th
D2- Boys 3200 Relay-                                             Freedom                    4th
In Division 2, Allysin Booth of Clintonville advanced in the Girls 100 Hurdles along with Hannah Zenkovich of Antigo and Jordan Mashlan of Freedom.
Sam Larson of Luxemburg-Casco advanced the finals in the 110 Hurdles and 300 Hurdles.