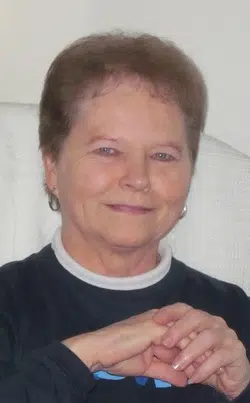 Janice Elaine Sawall, age 73, of New London, passed away on Tuesday, May 30, 2017 at home with her family by her side, following a courageous battle with cancer.  Janice was born on March 13, 1944 to the late Wilbur and Verna (Brocker) Bunkelman in Oneida, Wisconsin.  She was united in marriage to Vernon Sawall at Grace Lutheran Church in Sugar Bush on March 4, 1972.  Janice worked in manufacturing her entire life at many different places and retired from Gardan Inc., Hortonville.  She enjoyed going up north to the cabin in Crandon and family get-togethers.  Janice also loved playing cards, board games, bowling, snowmobiling, visiting casinos and watching the Brewers and Packers.
Janice is survived by her children, Kevin Genke, Paul (Ann) Sawall, Sarah (David) Tate, Christopher Sawall and Tracy (Austin) Heideman; grandchildren, Eric Mueller, Jonathon Sawall, Madeline Heideman and Aiden Heideman; sister, Julie (Steve) Dyer and a special friend, LaVerne Lucht.
Janice was preceded in death by her parents; husband, James Genke; second husband, Vernon Sawall and sister, Patricia Peotter.
The funeral for Janice will be held at 11:00 a.m. on Tuesday, June 6, 2017 at Emanuel Lutheran Church in New London.  Rev. Marcus Schulz will be officiating.  Visitation will take place from 9-11 a.m. directly at the church.  Burial will be in Floral Hill Cemetery, New London.
The family would like to thank Dr. Badine and the staff at ThedaCare Cancer Center, as well as ThedaCare At Home Hospice, especially Sarah.
In lieu of flowers a memorial fund has been established.