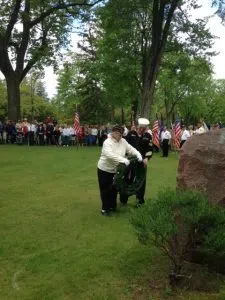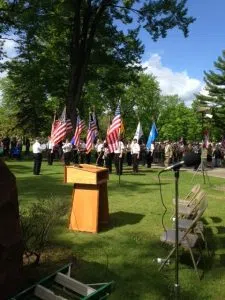 Memorial Day Ceremonies took place all around the listening area, including Shawano, Clintonville and New London.
Shawano Memorial Day
"All gave some, and some gave all" was the message Monday in Shawano.
Patriotic sounds and words from those who served along with those who have not served were heard.
Shawano County Board Chairman Jerry Erdman said Memorial Day holds a certain meaning to him.
"For a lot of us, Memorial Day ends up to be everyday" said Erdman. "Everyday when I look in the mirror, I am reminded that yes I have served, and I am reminded of the young men and woman who are serving on what could be their last day."
Erdman took the crowd back to the thought of war.
"War is not a nice place to be in, and for those who have served, we know what battle is like."
Erdman said as brothers and sisters fell on the battlefield, there was very little he could do.
"All we could do on the battlefield is pray, thank them for their service and wish them Godspeed" said Erdman.
Shawano Mayor Jeanne Cronce emphasized how people should approach this day.
"To many, it is just part of a three day weekend and the official kickoff to summer, but it is much more than that" said Cronce. "It is the chance to thank those who signed on the dotted line and paid the ultimate price to give us those freedoms that we are exercising today."
The Main speaker was Shawano Community High School Principal Scott Zwirschitz, who did not serve, but remembered an experience he had when he found out that his grandfather's brother George died in battle.
"I did not serve in the Military, but I am proud to say that grandfather Eugene Adams was a proud Navy man, and my father William also served in the Navy before being released on a medical discharge."
Zwirschitz said he had a memorable experience when he was going through his grandfathers memory box, and found a telegram.
"It took me a moment, but I realized that I held the piece of paper that may have very well informed my Great Grandfather and Great Grandmother that their son had died in the war. George never got to see his family again, marry, or have a family of his own. I believe that it must be pointed out that even though they know the risk, everyday we have men and women willing to make this sacrifice by serving."
Zwirchitz said he is part of a rather large group when it comes to serving in the military.
"My research found that around .3 percent of our population is on active duty, and around .2 percent are in the reserves" said Zwirschitz. "I also found that at any given time, our total population that has served in the Military is 7 percent. This means that 93 percent of our county, including myself, has never spent time in the military. Our county is lucky to have these people who have."
Clintonville Memorial Day
Master of Ceremonies Mayor Lois Bressette, Commander of the American Legion Post 63 Dan Rindt and Guest Speaker Sargent Jesse Cuff of the U.S Army Reserve addressed the crowd at Graceland Cemetery in Clintonville. After a reading of the many names of the fallen and the reading of the Gettysburg Address, Guest Speaker Sgt Jesse Cuff put in perspective what those who decided to fight were confronting.
"Throughout history, brave men and women, backed by their family and their community, have confronted evil by serving in our proud armed forces."
Cuff said even without the "Ultimate Sacrifice" the sacrifices that they are willing to make, should also be commended.
"They recognize within themselves the selfless service necessary to place the welfare of the nation above their individual interest. "
Cuff concluded with the words that many echoed throughout the day
"Thank God for such men and women. "
The Clitnonville High School Band performed before the group continued their procession to Riverside Cemetery in Embarrass.
New London Memorial Day
Many in New London gathered at Taft Park to for the city's Memorial Day Service to pay their respects to those who gave their lives for this country.
"Every service member who gave their life for defense of this country is remembered on this day" said Master Of Ceremonies Donald Schmoll of the American Legion. "Whether they are known to many or only a few, we should do our best to know those who fought so hard for the world we inherit from them and never forget their accomplishments, sacrifice, courage and commitment."
Schmoll said he was pleased with the attendance and thinks it may be record in recent years.
"I'm surprised at how many people showed up. This is the largest crowd I've seen – and I've been doing this for five years – the largest crowd I've ever seen, which is nice that people took their time out today in honor of the veterans, so I'm pleased."
Michael Hocks, a Vietnam veteran who was the featured speaker at the ceremony, acknowledged the support from the community as well.
"I'm not going to give you a history lesson. I'm not going to give you all of the statistics. I look at this crowd and it's very obvious you know what this is about."
In his speech, Hocks spoke on the ultimate sacrifice made by many, which is symbolized in the American flag, something he feels needs to be stood up for more than ever in today's world.
"During times of protest, [the flag] is desecrated by being burned and stepped on…As a combat veteran, we saw the body bags stacked up like cordwood on the shady side of the hospital in a field base camp in Vietnam, knowing the last duty of that American flag will be to drape the coffin of those hero warriors."
The day also included a chance for many to get their first look at the new Veterans Memorial at Taft Park.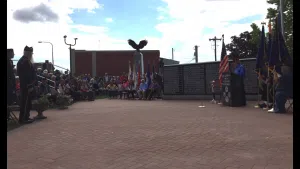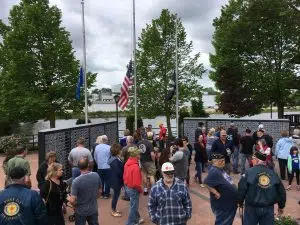 Photos from New London Memorial Day Ceremony at Taft Park