Meet Nicholas Koehn: Co-Valedictorian
Nicholas Koehn will be attending St. Norbert College next year to study chemistry with a math minor. Among Nicholas' involvements during his senior year was a special opportunity volunteering, which he was eager to do.
"The high school asked me if I would do a book swap with a local nursing home," he said. "So I have been picking up books from the high school library, based upon the preferences they gave me, and then I would drive them over there and sit and discuss the books with them, sit and talk with them for an hour or two every week or so."
Ahead of the curve Nicholas says he'll be able to graduate college in three years, based on the courses he's already earned credit for.
Meet Tory Clearwater: Co-Valedictorian
Tory Clearwater will attend UW-Milwaukee in the fall, with an undecided major, however she says she's interested in the science and math field. Looking back on high school, Tory says she's grateful for the trips she was able to experience.
"I got to go on a trip to Costa Rice for 10 days through the Spanish Club and a trip to the boundary waters in Minnesota and Canada, so a lot of cool experiences I got to take advantage of."
Tory adds becoming valedictorian has been a long-time goal of hers and she's proud to have accomplished it.
Meet Kara Maass: Co-Valedictorian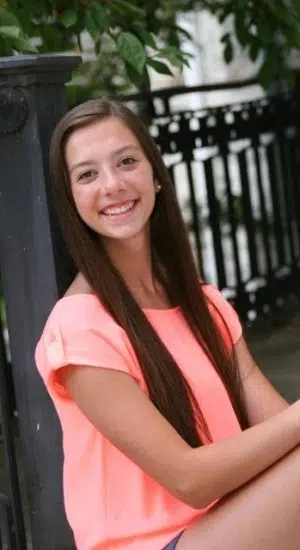 Kara Maass will attend Carroll University where she hopes to attain a degree in education and has some long-term goals set for herself.
"I hope to be a teacher and eventually get my Masters in school counseling," she said. "I changed my mind a lot throughout high school and what I wanted to do. I kind of decided on education this year, so I don't know I just kind of chose it."
Kara says the culmination of her high school career has been rewarding to look back on.
Meet Nick Paustian: Co-Valedictorian
Nick Toustian is planning to attend UW-Green Bay in the fall with the intent to major in biology field. Nick credits getting involved in extracurricular activities as part of his success. He says by trying new things he was able to find a new interest.
"I just joined the track team this year. I was interested in running before that, but it really made me take it more seriously and it was good way to meet new people and get better at something too."
Nick says the relationships he's built by his willingness to try new things will be memorable, as he looks back on his high school career.
Meet Miranda Peterson: Co-Valedictorian
Miranda Peterson said she always wanted to be at the top of her class and achieving the honor is something she's very proud of, but she does feel she had to overcome some challenges along the way.
"I feel like my shyness I had to overcome because in forensics, no one really would think I would be in forensics because I'm really quiet, but it was just a big thing I had to overcome. My friends got me into it and it kind of helped me with public speaking."
Miranda plans to study occupational therapy at UW-La Crosse, which has been an interest of hers for a couple of years.
Meet Bailee Vandenberg: Salutatorian
How does it feel to finish near the top of your class?
It feels pretty good. I'm pretty excited about it. It just kind of happened. I just studied and did my homework, now I'm here. It's nice because we have a lot of opportunities. We get to go to college for some classes and it's nice to get ahead.
What was the best part about high school?
Probably just being with my friends every day and the sports were really fun.
What sports or other activities were you involved in?
I'm in volleyball and track, then bio club, NHS, and project saving grace.
What was it like balancing involvements with academics?
It was crazy. It was really wild, but it was fun.
What's next after graduation?
I'm going to UW-La Crosse and hopefully to major in biology in minor in nutrition.
What drew you to that field?
I just really like science a lot and biology is my favorite kind of science. I just like learning about nutrition and the effects on the body.
Was there any class that sparked your interest in that?
I took bio and anatomy last year and I really like that class. That probably sparked an interest.
Can you think of a challenge you had to overcome in high school?
I'd say time management in general because with sports it's crazy. Sometimes you won't get home till 11 or 12 and you still have two hours of homework and then morning practice, just finding the time to get everything.
How will that have prepared you for the future?
I think it will be very helpful having that because you're going to need to be able to plan stuff and find time to do the things you have to do.
Where do you see yourself in 10 years?
Probably just living life with a family and a nice house. Maybe [I'll be] a dietitian or a health coach for a sports team is what I'm thinking.
Describe your senior year in one word.
Pretty much awesome. It was just really good. The class trip we just took to Six Flags was very fun. Just like getting to know a lot of my classmates a lot better this year was really, really awesome.
What will you miss most about high school?
My friends and seeing them everyday and seeing a lot of the teachers.
What advice would you offer underclassmen?
I would say put in the work because you're never going to regret putting in the work, you'll only regret not putting in the work.