Meet Amber Brown: Valedictorian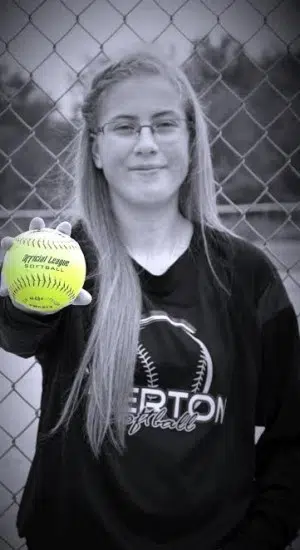 Amber Brown heads the Class of 2017 at Tigerton High School and will be attending UW-Green Bay with a major in accounting. Math is a subject she says comes naturally to her, which is why she one day hopes to become a certified public accountant.
"I like how it doesn't change, no matter what," she said. "Everything is still the same."
As she begins her future endeavors, Amber says she'll look back fondly on her experiences throughout high school on the softball diamond and in the classroom, which she feels has set a strong foundation for the future.
For those underclassmen hoping to follow in Amber's footsteps at the top of the class, she recommends, "Work hard, do the best you can and enjoy your time."
Meet Wyatt Matteson: Salutatorian
How does it feel to be salutatorian?
It's a great feeling. I was really trying to go for valedictorian, but I didn't really try as hard as [Amber] did, so she really earned it over me, so it's definitely an honor to have.
What did it take to earn the achievement
In all honesty, looking back at it now it doesn't look like much work, but I know at the moment it felt like a lot of work. It was really just making sure you got your homework in and you studied for all the tests that you got.
What was the best part about high school?
The friends and all the memories you make after school or the practices, you got the games and all that. Not much for homework though.
What's next after graduation?
My plan is to go to Viterbo in La Crosse and major in nursing.
What's the dream for you to come out of that?
A lot of money, good family, stable income. Out of state somewhere. Probably to a little warmer climate.
What activities were you involved with?
This is my first year of baseball. I have been in basketball all four years and I played football my freshman and sophomore years and I'm in a bunch of different clubs.
How important is it to get involved?
It's very important. I think it's very good on scholarships and college applications.
How did you manage to balance your involvements with academics?
Typically just the study halls and a lot of time the teachers give you time to work in the class, but I don't think I brought homework once home this year. Junior year every once in a while I would bring homework home, but it wouldn't be more than a half hour.
What advice would you offer underclassmen?
Really try to enjoy your time because it goes by fast. A big thing is if I had to give any advice would be to try and get the best grades you've ever got your freshman and sophomore year because it's really hard to build up your GPA and a lot easier to tear it down.
How would you describe your senior year?
A blast. Bittersweet. Bittersweet for sure.
What class do you think has prepared you the most?
I'm taking this AP Psych class and I think that's one of the best ones that's prepared me for a college course in a way and the other ones would be Biology, Biology I and Biology II.