Meet Mary Jane James: Valedictorian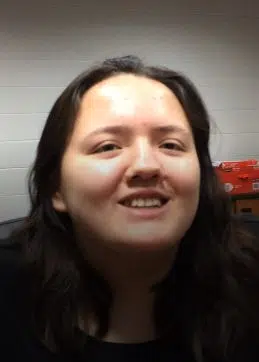 Mary Jane James is the valediction of Menominee Indian's 2017 graduating class. She'll attend UW-Madison in the fall and is looking forward to the opportunity.
"It's scary, but from being in people program I did go down there every summer for three weeks, so I got to know the environment pretty well," Mary said of the transition.
Although she's undecided what she'll study officially, she's eyeing programs such as business and engineering.
"If I go into business, I'd like to work with something sustainable," she described. "I'd like to travel with my work."
Mary Jane says if she goes into engineering she aims to attain the highest degree and hopes to one day live on the east coast.
Meet Santana Caldwell: Salutatorian
How does it feel to finish near the top of your class?
I feel very proud because I know I worked hard for it all throughout high school for my grades. It was a lot of studying and other things that when into it.
What was the work that went into achieving salutatorian?
Being persistent with your work and handing it in on time. Just taking responsibility and not slacking off.
What will you remember most about high school?
All my friends, being with them and all the memories we made, the fun we had.
What activities were you involved with?
Freshman year I was in business club, my freshman, sophomore and junior year I was in the Sustainability Leadership Covert with the college. That was all summer and like an internship, so we got paid for it. National Honor society, last year and this year and yearbook club this year.
What are your plans after graduation?
I've been admitted to UW-Oshkosh, so I'm going to go there for nursing.
What are your goals with that?
To be a registered nurse? I'm still looking into what kind of nurse I want to be.
Describe your senior year in one word.
Stressful and overwhelming, but rewarding. This year we started classes at NWTC, so we were going half the day here and half the day here. It was kind of hard transitioning from high school classes to college-level classes. The work was much harder. Now that I'm almost done, I'm pretty sure  I got all A's in all my classes and now I'm going to have 21 college credits.
Where do you see yourself in 10 years?
Hopefully I'll have a bachelor's in nursing and working as a nurse somewhere. Not sure where yet.
What advice would you offer underclassmen?
Stay focused and work hard because if they slack off they're going to regret it in the long run.