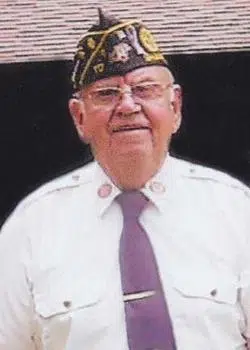 Clarence Henry Neitzel was born on January 24, 1929 to Herman and Martha (Dirks) Neitzel. He went home to be with the Lord on the evening of May 24, 2017 after a one year battle with cancer as a true Marine.  He was very proud of his service during the Korean War and was discharged as a Staff Sargent.  On November 1, 1952 he married his sweetheart waiting for him, Hazel Fehling.  Together they had five children, Ellen (David) Welsh, Jane Maukstad, Tom (Kathy) Neitzel, Cynthia Neitzel, and Sandra Neitzel who survive.  They were gifted with seven grandchildren, Joceyln (Joel) Vogel, Matt (Jessi) Neitzel, and Adam Neitzel, Jennifer (Dan) Query, John Welsh, Paul Welsh and Sara Bertrand.  There are also eight great-grandchildren, Silas, Bella, Levi and Noelle Vogel, William and Owen Query and Brayson and Parker Neitzel.  Hazel was taken from her family on June 5, 1987 and Clarence was left to carry on with two young daughters.  He also lost his grandson, John Welsh.
Clarence had the great experience of being one of 16 children. He still has six remaining sisters and one living brother at this time.  Edna Schuster, Esther Wasmund, Anita Schaumberg, Vernice Weigand, Evelyn (Fred) Behrend, Doris (Jim) Enderle and Ewald (Vivian) Neitzel and sister in law, Florence Neitzel.  His sisters and brother and in-laws preceding were Florence (Hubert) Risse, Irma (Harold) Baumann, Lillian (Lee) Weigand, Victor Neitzel, Alfreda and Raymond Neitzel and new born baby boy, Alvin.  Other in-laws Allan Schuster, Clarence Wasmund, Clarence Schaumberg and John Weigand.   Also preceding him were Hazel's parents, sister and brother-in-law.
On April 20, 1996, Clarence was married to Antoinette "Toni" Hirsch Pfannenstiel. With this marriage, he acquired more family.  Surviving are Mary (Matt Theisen) Beuth, Paul Pfannenstiel and Dan (Patty) Pfannenstiel.  Step son Chris Pfannenstiel preceded him in June 2001.  Also surviving are step grandchildren, Jason Bartoshevich, Sean and Travis Beuth and Jared, Jenna and Tommy Pfannenstiel.  Clarence also enjoyed step brothers George (Patty Stueber) Hirsch, Tim (Karen) Hirsch, Mike (Bernice) Hirsch, and step sister Agnes Conrath.  There are many nieces, nephews and lots of friends.  We have had a tremendous support system throughout this journey, most especially, nurses Donna and Dorothy, our Pastor, Paul Kuehn and the super supportive home care and hospice personnel from ThedaCare.  We have so many good friends and neighbors.  Our love to them all.
Memorial services will be held at 11:00 am Friday, June 2, 2017 at Divine Savior WELS Church with Rev. Paul Kuehn officiating. Visitation will be held Friday at the church from 9:00 am until the time of the service. Military Honors will be conducted by the Shawano American Legion Post #117.  In lieu of flowers, memorials may be directed to the American Legion Post #117 in Shawano.