Meet Callie Dorsey: Valedictorian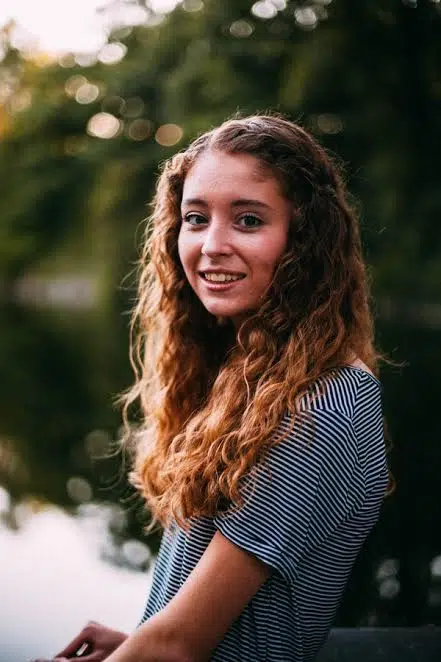 Callie Dorsey and Olivia Williams lead the 2017 graduating class at New London High School. Callie Dorsey is this year's valedictorian, who says while she didn't initially set out to have the goal of being first in her class at the start of high school, it's an achievement that she's proud to accomplish.
"It feels pretty good, Dorsey said about earning the honor. "I'm excited and I put a lot of work into this, so I'm pretty proud of myself. I had a lot of help along the way too. Once I realized it was a goal I could attain, I kind of set it as my goal to become valedictorian."
Callie made sure to challenge herself along the way in high school, being sure to take plenty of AP classes with her class load, which will be helpful when she enrolls into the College of Engineering at UW-Madison next fall.
"I've always kind of had it in the back of my head that engineering is a possibility, but in the last two years I've taken some engineering courses here," she said. "I'm undecided about what major so far, but I'll figure it out. I really like math and science and physics, so some of my teachers encouraged me to consider engineering."
Already, Callie will have a head start with her college education, as she's takes courses through Project Lead the Way, such as Intro to Engineering Design and Principles of Engineering. Looking back on high school, Callie says she's come a long way in her willingness to be outgoing after coming from a smaller school.
"I've always been pretty shy, so having to overcome that, I came from a class of 14 kids to a class of [over 180]. I think it helped me my freshman year to stay focused on my classes instead of being busy with friends. I guess along the way, it's made me more confident and as I made more friends I realized that."
Callie says she'll look back positively on all of the friendships she's developed and the teachers she's learned from. For those hoping to follow in her footsteps of success, she recommends always devoting time for homework and just giving your best.
Meet Olivia Williams: Salutatorian
How does it feel to be Salutatorian?
It's pretty exciting. I worked really hard to get there. It was a lot of hard work and a lot of dedication.
What was some of the work that went into achieving the honor?
You had to obviously do really well in all of your classes and you want to take a lot of AP classes to get the weighted GPA, and then just working hard in all of that.
So it takes in account the challenging classes?
Yes. It's like, instead of taking all gym classes and getting a 4.0, it's taking the harder ones.
Was being the top in your class a goal of yours?
Yeah, I was striving for number one, but that didn't happen, but that's okay. Number two is just as good.
What will you remember most about high school?
I'll probably remember most my experience with band. Playing the clarinet has been a lot of fun. We got to go on a bunch of trips and that was my favorite experience out of high school.
What other activities or involvements were in you in?
I'm in math league, TSA (Technology Student Association), National Honor Society and Spanish Honor Society.
What were some challenges that you had to overcome in high school?
I would say jumping out of my comfort zone because I'm a pretty shy and quiet person, so putting myself out there and doing those activities that made me uncomfortable in the end was worth it because I grew a lot and learned a lot too.
What kind of benefits can doing things that you're not comfortable with provide?
You learn a lot about yourself and everything literally. Doing stuff like extra-curricular activities is good on college applications. It's always fun, you never regret it I don't think.
What's next for you after graduation?
I plan on going to UW-Eau Claire and majoring in information systems and possibly minoring in Spanish.
Has that been a career you've been interested in for a while?
Yes. Definitely like technology, IT stuff. That's what my mom does and I really like what she does, so yeah that's always been what I wanted to go.
What will you remember most fondly about high school?
I'll remember a lot of the teachers and friends as well. As I said before band, all the memories we made from that. Just having a great time. There's only four years of high school, so make the best of it.
Can you think of any classes in particular that might prepare you best for life ahead?
I would say for college specifically, AP U.S. History definitely prepares you a lot, writing essays, difficult tests that emulate what college will be like. For life in general, I would say AP English because it's with  Miss Cochran. She gives a lot of nice life advice in class and that also helps for college as well.
What will your commencement speech entail?
I plan on talking a lot about stepping out of your comfort zone and doing things that may be uncomfortable, but will be worth it in the end.
Where do you see yourself in 10 years?
I'll be 28, so probably working hard, having my own house and all that. Just working.
Describe your senior year in one word.
Awesome. Senior year is always pretty awesome. I got to do a lot of cool things. We got to go to New York for band and choir and that's always been a dream of mine. It's been an awesome year.
What advice would you offer underclassmen?
Besides stepping out of your comfort zone, I would say work hard in your classes. High school prepares you a lot for college, if that's where you're headed. Take advantage of the opportunities you have with school and never give up.