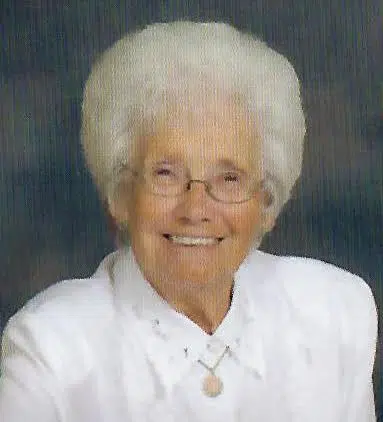 Phyllis M. Rasmussen, age 92, of Caroline passed away Friday, May 19, 2017 at Homme Home of Wittenberg.
 Phyllis Mae Hitt was born in Antigo, Wisconsin on April 15, 1925 to Ralph and Mae (Guenthner) Hitt. Mae was a school teacher and Ralph farmed and operated a milk delivery business. She had one brother, Ken, and two sisters, Vivian and Lorraine. As a young lady, Phyllis worked in the potato fields for her uncle Joe Guenthner and as a nurse for his wife Lilly. During her senior year in high school she lived in town and worked at a dime store. Upon graduation from Antigo High School in 1943 she moved to Milwaukee and worked at the Twinkie factory. When her older brother enlisted in the U. S. Marines a year later, she was called back to Antigo to drive the family car.
 Phyllis met the love of her life Melvin S. Rasmussen when her sister Vivian was being courted by his brother Clarence. They were married on March 4, 1946 at St. Mary's Catholic Church in Antigo in a gown her mother made by hand. They lived in Antigo for several years farming, logging, and working at several sawmills. In January of 1948 Phyllis gave birth to her oldest son, Dan. Her brother had to drive her to the hospital because Melvin had severely cut his hand on a saw rig and couldn't drive. In 1949 the couple purchased a farm east of Caroline and settled there for many years. Shortly after they moved in their second child Gary was born, followed by Becky and Tony. In September of 1958, fire destroyed the barn. They moved to a farm west of Caroline and had two more children, Cheri and Roy. Phyllis and Melvin farmed for many years until the saw and planing mill they built began to flourish. They retired in 1977 due to health reasons.
 Phyllis and Melvin enjoyed dancing together. Phyllis also loved to Jitterbug with her sister Lorraine. She and Mel played cards often with Milton and Violet Malueg, Vic and Seme Bazile, and Gay and Gus Will. They also enjoyed frequent get-togethers with extended family. They shared stories and lots of laughs. Phyllis took several trips out west and to Canada with Mel over the years.  Phyllis' other interests included reading and completing word puzzles, like cryptograms. She loved to play scrabble with her friends, especially Caroldean Mehlberg. Wheel of Fortune was a "must watch". Phyllis looked forward to having her hair done by Mary Jo Malueg every week.–not only for the beautiful style she received, but for the conversation and catching up on the Caroline news. She was a longtime member of St. Mary's Catholic Church, Marion, and active with the Christian Mother's Society. Phyllis and Melvin helped organize and run the St. Patrick's Day Card Party, which was always a huge success. Phyllis was an excellent cook and known for her potato salad and homemade buns. Phyllis and Melvin built their retirement home on the Embarrass River in 1977. They had a beautiful garden and grew giant pumpkins for which they earned many blue ribbons at the county fair. Over the years they had numerous dogs and cats, but Phyllis especially liked sitting in the sun and petting her cats.
Phyllis is preceded in death by her parents, an infant sister Betty, her husband Melvin on December 20, 1987, one grandson Timm "TJ" Koenigs, a sister Vivian (Clarence) Rasmussen, and a brother Kenneth (Ione) Hitt.
 Survivors include six children; Dan (Kathy) Rasmussen of Caroline, Gary (Anita) Rasmussen of Wittenberg, Becky (Gary) Spiegel of Caroline, Tony (Bobbie) Rasmussen of Greenville, Cheri (Mike) Tauferner of Tigerton, and Roy (Julie) Rasmussen of Janesville. There are 20 grandchildren: Tina, Angela, Mark, Luke, Rick, Matthew, Ben, Tanya, Alysia, Shaun, Jesse, Joseph, April, Amy, Christie, Andrew, Jacob, Clare, Jonnie, and Tressa. She is further survived by 40 great grandchildren, a sister Lorraine (Keith) Wilson of Antigo, and many other relatives and friends.
 Mass of Christian Burial will be held on Thursday, May 25th at 11:00 AM at St. Mary's Catholic Church, Marion. Fr. Jose Castaneda will officiate and burial will follow in the parish cemetery. Friends may call on Thursday from 9:00 AM until time of mass at the church. The Beil-Didier Funeral Home, Marion, is assisting the family. In lieu of flowers, memorials are preferred to St. Mary's Catholic Church in Phyllis' memory.
 A special thank you from the family goes out to Gary and Anita who took Mom into their home and gave her the most loving and compassionate care for seven years.