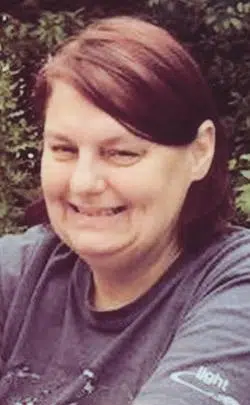 Mary Lou Buchholz, age 57, of Clintonville, passed away on Friday, May 19, 2017 in Neenah. Mary was born in Wausau on December 30, 1959, the daughter of the late Kenneth and Lorraine (Adams) Des Forge.  She is a graduate of Shawano High School and enjoyed sewing and doing crafts.  She loved animals, especially her dog, Maggie.  Mary enjoyed backyard barbecues with her family and spending time with her grandchildren.
Mary is survived by: two sons, David (Carrie) Buchholz and Adam (Jenn) Buchholz; grandchildren, Mary Grace, Kaylin, Devon, Hatcher, Maeghan and Sophie; her brothers and sisters, Lea (Jim) Nilles, Pat (Diane) Metko, Gail Martin, Terrie (Jerry) Timm, Mike (Janice) Metko, Steve Des Forge and Jim Des Forge.  She is further survived by several nieces and nephews as well as the father of her children, Steve Buchholz of Clintonville.
She was preceded in death by her parents and three nephews, Christopher, Jason and Mark.
A memorial service for Mary will be held at 11:00 am on Thursday, May 25, 2017 at Swedberg Funeral Home in Shawano with Rev. Dan Casper officiating. Visitation will be held at the funeral home from 9:00 am until the time of the service.
We would like to extend a special thank you to Angie and Tabbi, the 2nd floor ICU nurses at Theda Clark in Neenah.