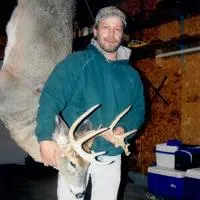 Dennis R. Arndt Jr., of Big Falls, passed away at the age of 59 after a courageous battle with cancer on Sunday, May 14, 2017 at ThedaCare Regional Medical Center, Appleton.
Dennis Ray Arndt Jr. was born on December 8, 1957 in Clintonville to Dennis and Beverly (Dieck) Arndt Sr. and he grew up in the Big Falls area. Dennis worked for a few years at the Wisconsin Clock Factory in Clintonville and had various other jobs over the years. Dennis grew and harvested Christmas trees on his property and for many years he tapped his trees for maple syrup. He also raised beef cattle and chickens for some time; and always grew huge vegetables in his garden. Dennis was united in marriage on October 19, 1996 to Sherry L. Tock at St. Peter's Lutheran Church, Big Falls. Dennis logged off their land and the couple built their dream log home in 2007; and his wife preceded him in death on November 12, 2013. He enjoyed deer hunting, fly fishing, and working hard. Dennis was always the strong silent type who had a heart of gold. He will be remembered most as a devoted husband, a loving father, and a proud grandfather.
Survivors include his mother, Beverly (Jim) Stoltz of Iola; and four children, Kelby (Jamie) Kroening of Marion, Naomi (James) Welch of Big Falls, Matthew Arndt of Appleton, and Felicia Arndt of Aberdeen, NC. There is one step daughter, Vanessa Peterson of Seattle, WA; and three grandchildren, Lindsey, Garrett, and Desiree. There are four siblings, Doug (Nancy) Arndt of Tigerton, Denise (friend Trent) Arndt of Caroline, Tom (friend Lori) Arndt of Iola, and Becky (Matthew) Popp of Iola. He is further survived by many other relatives and friends. Dennis is preceded in death by his father, his wife Sherry, an infant daughter Melissa Rae Arndt, a brother Jeffrey Arndt, and his father and mother-in-law Robert & Doris Tock.
Funeral Service will be held on Saturday, May 20th at 11:00 AM at St. Peter's Lutheran Church, Big Falls. Pastor Karen Riemer will officiate and burial will follow at Big Falls Cemetery. Friends may call on Saturday from 9:00 AM until time of service at the church. The Beil-Didier Funeral Home, Marion, is assisting the family.
The family wishes to especially thank Mary for being a loyal friend to Dennis and for the loving and compassionate care that she provided to Dad.