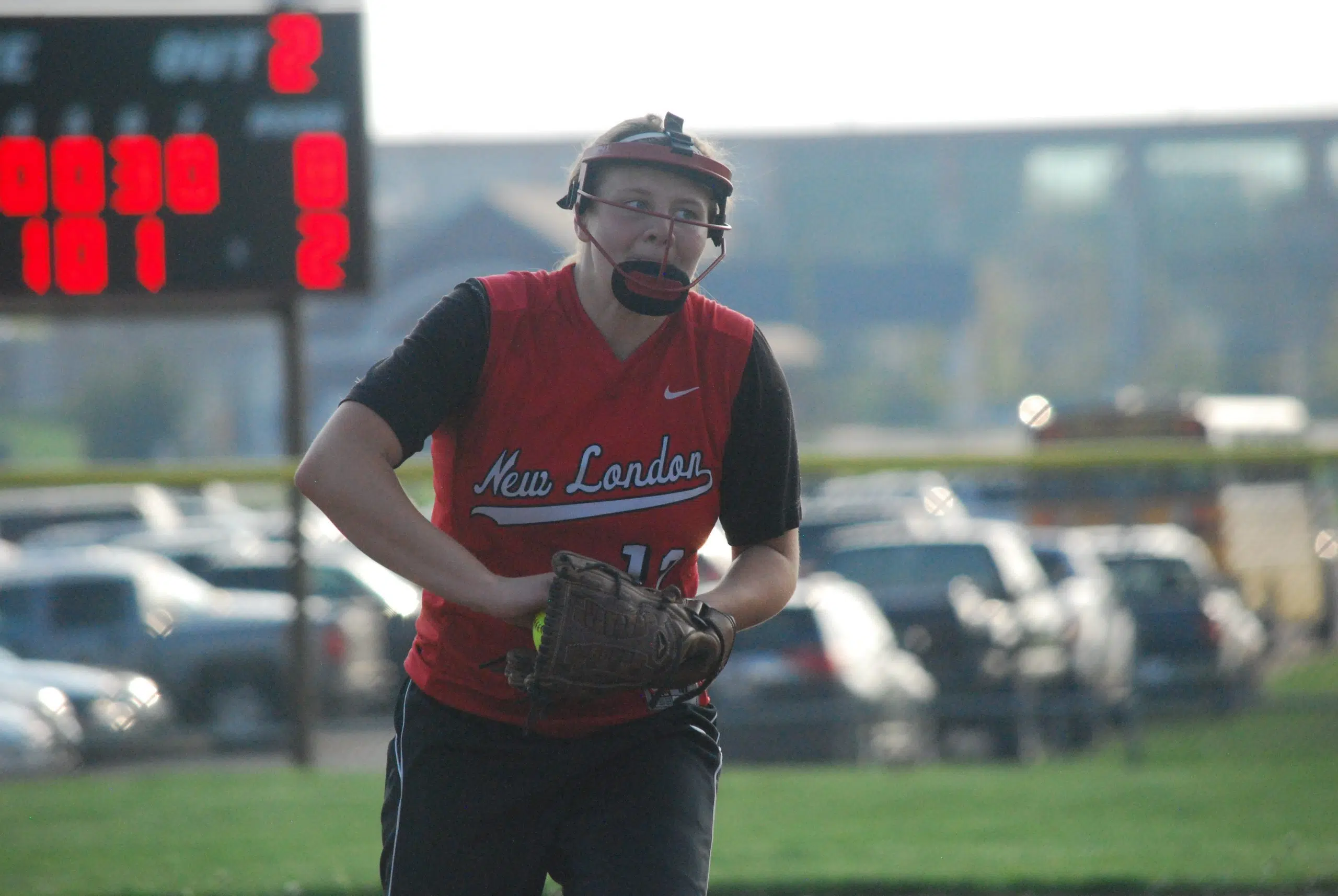 New London 8, Shawano 2
New London has clinched at least a share of the Bay Conference title, following an 8-2 road win in Shawano.
The Bulldogs plated four runs in the second inning to take early command when McCoy Mix had a two-RBI single to start the scoring. They led 5-0 before Shawano was able to get on the board with an RBI single from Brandi Gueths to score Saige Henning, but New London would tack on three runs of insurance in the sixth.
"I told the girls to win a conference championship, tie or whatever it is, nobody can take that away," said New London head coach Tony Porath after the game. "That's a great accomplishment. A lot of kids in the past would have loved to have that. Tie, well Seymour's a good team, I'll take the tie whatever it is. You look at our team, I think we've come a long way, hitting the ball, defensive-wise, so we've improved through the year also."
New London batters produced the timely hits when they were needed. Kate Christian went 3-for-4 with an RBI, while Erin O'Connell finished with two hits and two RBI to lead the New London lineup, which was able to take advantage of a few defensive miscues in the field.
Saige Henning collected three hits with a run scored to pace Shawano.
"That's a good ball club," said Shawano head coach Brian Johnson of New London. "Clearly, they're very well-coached and apparently we've got to coach our kids up a little bit better on defense. You can't have mistakes against a good ball club like that. They're going to make you pay and that's exactly what happened."
Coming into the year, there was a little more uncertainty surrounding this Bulldog team than in past years, but coach Porath is proud of what his team has been able to accomplish.
"I think that the older girls have done a great job of bringing the younger ones in," he said. "They practice hard, there's a lot of talk, and they don't goof around at practice. You can tell they are focused and want to get better. There's a lot of kids that go through the motions sometimes, but these kids want to get better and they have."
While New London is celebrating at leas a share of the conference championship, Shawano will get back to work with a renewed focus. The Hawks will have one more regular season tuneup against Wisconsin Rapids before they get their postseason underway.
"We just told the girls right now the season is over," said coach Johnson. "It's the second season. Even our game Friday against [Wisconsin] Rapids is sort of an introduction to the playoffs. We've certainly got things we need to work on to get a little better, but we'll get it fixed. Whatever you did during the season means nothing now. It's win or go home."
Softball
BAY CONFERENCE
Seymour Holds On To Conference Hopes With Win
Seymour 7, West De Pere 4
The Thunder pushed across four runs in the sixth and seventh innings to overtake the West De Pere lead and maintain their conference title homes. Paige Weyer delivered a clutch performance, going 3-for-4 with an RBI at the plate, while earning the win in the circle with five strikeouts in a complete-game. Seymour also received RBI contributions from  Raven VandenLangenberg and Zoe Moehring.
Green Bay East 6, Xavier 5
Dalia Grajeda was a perfect 3-for-3 to lead East with a pair of triples and three runs driven in. She was also the game's winning pitcher, tossing five strong innings.
Menasha 11, Green Bay West 1
The Blue Jays totaled seven runs through the game's first three innings to blow by the Wildcats. Lauren Ludvigsen got the win.
NORTHEASTERN CONFERENCE
Freedom and Wrightstown Neck and Neck In Standings and Seeding
Freedom 12, Clintonville 2
Payton Dorn blasted a home run and a double to go along with three RBI for the Irish in game one; she was also the winning pitcher. Abby Cardew was 2-for-4, also with a home run. Morgan Witt went 4-for-4 with two RBI.
Freedom 14, Clintonville 2
It was much of the same in game two for Freedom. Dorn cracked another home run and finished with three RBI, while earning the win pitching. Abby Cardew followed up with a 3-for-3 game, while Cali Brockman went yard. Paige Fuller had three RBI.
Denmark 9, Waupaca 3
Grace Nys recorded nine strikeouts to limit the Waupaca hitters in game one. She earned the win, surrendering three runs on three hits. Jayden Laurent blasted a home run in game one.
Denmark 17, Waupaca 6 
Taylor Ullman collected four hits and four RBI on a grand slam to power the Denmark lineup in game two.
Luxemburg-Casco 7, Fox Valley Lutheran 1
The Spartan lineup put up four runs in the opening inning to help them take game one. Dana Deterville and Jenna Jorgenson each had three hits.
Luxemburg-Casco 8, Fox Valley Lutheran 2
Dana Deterville tossed a complete-game, as she received six runs of support through the first three innings. Mariah Tebon drove in two runs.
Oconto Falls 5, Little Chute 2
The Panthers offense worked quickly, scoring four runs in the first to take control of game one. Haley Bell earned the win pitching, striking out six.
Oconto Falls 13, Little Chute 7
In game one the Panthers relied on the quick strike, in game two they tallied nine runs in the final three innings to help take the twin bill sweep. Stephanie Peitersen was 3-for-4 with an RBI to lead the Panther offense.
CENTRAL WISCONSIN CONFERENCE 8
Iola-Scandinavia 16, Wittenberg-Birnamwood 2
The Thunderbirds took advantage of 12 hits and 12 issued walks from Wittenberg-Birnamwood. Olivia Schustek had four RBI and Hannah Melum crushed a home run with three RBI. Alexis Schaupp took the loss after one inning of work.
FOX RIVER CLASSIC CONFERENCE
Bay Port 5, Sheboygan North 3
Maddy Ehlke provided the heroics, cranking a two-run, walk-off home run for Bay Port to win the game in the bottom of the seventh. She finished 2-for-2. Sydney LaPoint struck out 15 for the win.
De Pere at Manitowoc Lincoln
Green Bay Preble 7, Ashwaubenon 0
Janelle Wotruba blasted a pair of home runs to lead Preble past Ashwaubenon. Brittany Baneck had two hits and got the win pitching.
FOX VALLEY ASSOCIATION
Appleton East 8, Fond Du Lac 1
Scoreless after three innings, East scored runs in the next three, including a six-run sixth to push the Patriots to the win. Morgan Blob pitched 5 1/3 innings for the victory.
Kaukauna 6, Oshkosh West 4
The Ghosts scored three runs each in the first and second innings, which would be all they needed for Haley Hestekin. She picked up the win and was 3-for-3 at the dish to lead Kaukauna.
Oshkosh North 16, Appleton North 0 (F/5)
Syd Supple was dominant both with pitching and hitting for the Spartans. She was 3-for-4 at the plate with two home runs and four runs driven in, while also shutting out the Lightning in the circle.
Hortonville 4, Kimberly 3 (F/15)
In a 15-inning affair, it was a squeeze bunt that finally allowed Hortonville to prevail over Kimberly. Josey Martin laid down the bunt to score Emily Cliver. Meanwhile, Jordan Martin pitched all 15 innings for the Polar Bears to earn the win in the circle.
Neenah 5, Appleton West 4 (F/8)
Natalie Ebel drove in the winning run in the eighth to push Neenah in the win column.

NON-CONFERENCE
Laconia 7, Weyauwega-Freemont 0
Kayla Schwebke tallied 12 strikeouts and scattered three hits to stymie the Weyauwega-Fremont hitters. Kiley Akey took the loss. Payton Kastenschmidt and Riley Schroeder each had home runs.