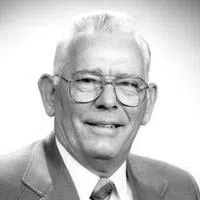 Edgar "Ed" Roloff, age 84, of Shawano passed away on Monday, May 15, 2017 at ThedaCare Medical Center, Shawano.
Edgar Alfred Roloff was born on March 28, 1933 in Big Falls to Elmer and Esther (Strohschoen) Roloff and grew up in the Big Falls area. He entered the U.S. Army and served from 1953 – 1955 in Hamburg, Germany, during the Korean War. Ed was attached to the 40th Transportation Co. and delivered the mail and was often fortunate to transport officer's around the base. Ed was united in marriage on June 9, 1956 to Ardell L. Buch at St. John's Lutheran Church, Tigerton. The couple lived for a short time in Shawano and in 1956 moved to Bonduel. Ed began working at Chief Pontiac Sales in Bonduel first as a Parts Manager and then as a Salesman which he did until 1963. Then Ed went back to school to earn his insurance license. He worked out of his home and was employed by Woodman Accident and Life Company, Lincoln, NB, for close to 30 years. Due to his health he was forced to retire in 1991.
Ed is an active longtime member of Friedens Evangelical Lutheran Church, Bonduel, where he served as President, Treasurer, and Ushered often. He is a former president of Bonduel Community Industries and the Bonduel Lions Club. In 2004 the Ed and Ardell settled in Shawano. He enjoyed spending countless hours in his workshop making bird houses, squirrel feeders, wooden planters, and numerous other projects. His other interests included fishing for brook trout, catching blue gills on Shawano Lake, and hunting; whether it was for deer, partridge, duck, or small game. For years Ed was a man of "many cars" and lots of fedora hats. He was also often times buying, selling, or trading guns with folks around the area. Ed was always helping other people and was very proud to be an AA Sponsor for two different individuals over the years.
Survivors include his wife of 60 years, Ardell; and two children, a son, Randy (Kristen) Roloff of Black Creek, and their children Kelsey Roloff of Los Angeles, CA, Hailey Roloff of Appleton, and Tyler Roloff of Milwaukee; and a daughter, Robin (Curtis) Sperberg of Clintonville, and their children Chase (Brittney) Sperberg of Marion and Chad (friend Haleigh Springborn) Sperberg of Clintonville. There are four siblings, Eugene (Marie) Roloff of Oshkosh, Esther Rosenau of Manawa, Emma Dirks of Sheboygan, and Della Grafton of Sheboygan. There are two sisters-in-law, Violet Roloff of Shawano and Nancy Roloff of Waupaca. He is further survived by many other relatives and friends. Ed is preceded in death by his parents; five sisters, Doris Wiese, Dorothy Rasmussen, Durane Lorge, Diane Kroening, and Donna Durrant; and two brothers, Earl and Everette Roloff.
Funeral Service will be held on Friday, May 19th at 11:00 AM at Friedens Lutheran Church, Bonduel. Rev. Virgil Hanson will officiate and inurnment will be in the parish cemetery at a later date. Friends may call on Friday from 9:00 AM until time of service at the church. The Beil-Didier Funeral Home, Clintonville, is assisting the family. In lieu of flowers or plants, memorials are preferred to Friedens Lutheran Church and Parsonage in Ed's memory.
The family wishes to thank all the nurses with ThedaCare at Home Hospice, especially Lora, Christy, Betsy, Kelly, and Tammy who took such excellent care of Ed. We also wish to thank Dr. Michael Williams for the wonderful care and compassion provided to Dad.