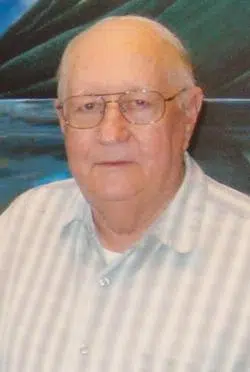 Joe A. Mraz, age 88, of Pella, passed away on Sunday, May 14, 2017 in Shawano surrounded by his family. Joe was born in Wakefield, MI on February 19, 1929, the son of the late Andrew and Evelyn (Karr) Mraz.  He had one sister, Enid (Syl) Kanieski, one nephew, Roger (Jan) Kanieski and one niece, Sharon (Greg) Naumann.  In 1932, the family moved south of Shawano to take over the family farm.  He attended Riverside School in Lunds through the 8th grade, then Shawano High School, where he met his first love, Gen Lenzner.  They married in November of 1950 and took over the family farm, where they raised 10 children.  Jim (Debbie) Mraz, Robert Mraz, Sandy (Mark) Gulmire, Karen (Dave) Theis, Andy (Cindy) Mraz, Julie (Jay) Bishop, Joe (Cathy) Mraz, Mary (Tom) Bloomer, Debbie Elertson, and Tammy (Dave Bartz) Friedrich.  Joe enjoyed fishing, hunting, trapping and also talking on his C.B. radio with friends.  He was proud to be a charter member of The Lunds Snowbirds.  Joe also worked for Consolidated Freight as a courier until retiring in 1990 after losing his wife of 40 years to cancer.
Joe married his second love, Elaine Leist, in July of 1992 and received 3 step children, Kenny Wolfe, Anita (Jamie) Smith and Pam Faehling. The next 25 years Joe and Elaine enjoyed traveling to Hayward where they had a permanent camp site, and spent weeks at a time.
Joe is survived by: his wife, Elaine; six daughters, two sons, one step daughter, one step son, numerous nieces, nephews, grandchildren, great-grandchildren and great great-grandchildren.
He was preceded in death by his first wife, Gen Mraz; two sons, Robert and Andrew "Andy" Mraz; one grandson, Mitchell Bishop; his parents, Andrew and Evelyn Mraz; his sister, Enid; and his step daughter, Pam Faehling.
Funeral services for Joe will be held at 11:00 am on Saturday, May 20, 2017 at Bethlehem Lutheran Church in Pella with Rev. Lofgren officiating.  Burial will be in Jerusalem Lutheran Cemetery in Lunds.  Visitation will be held from 4:00 – 8:00 pm on Friday at Swedberg Funeral Home in Shawano and again at the church on Saturday from 10:00 am until the time of the service.
The family wishes to thank Dr. Qualheim, Rev. Tim Lofgren, the staff at Shawano Health Services, and ThedaCare at Home Hospice caregivers for all of their support.