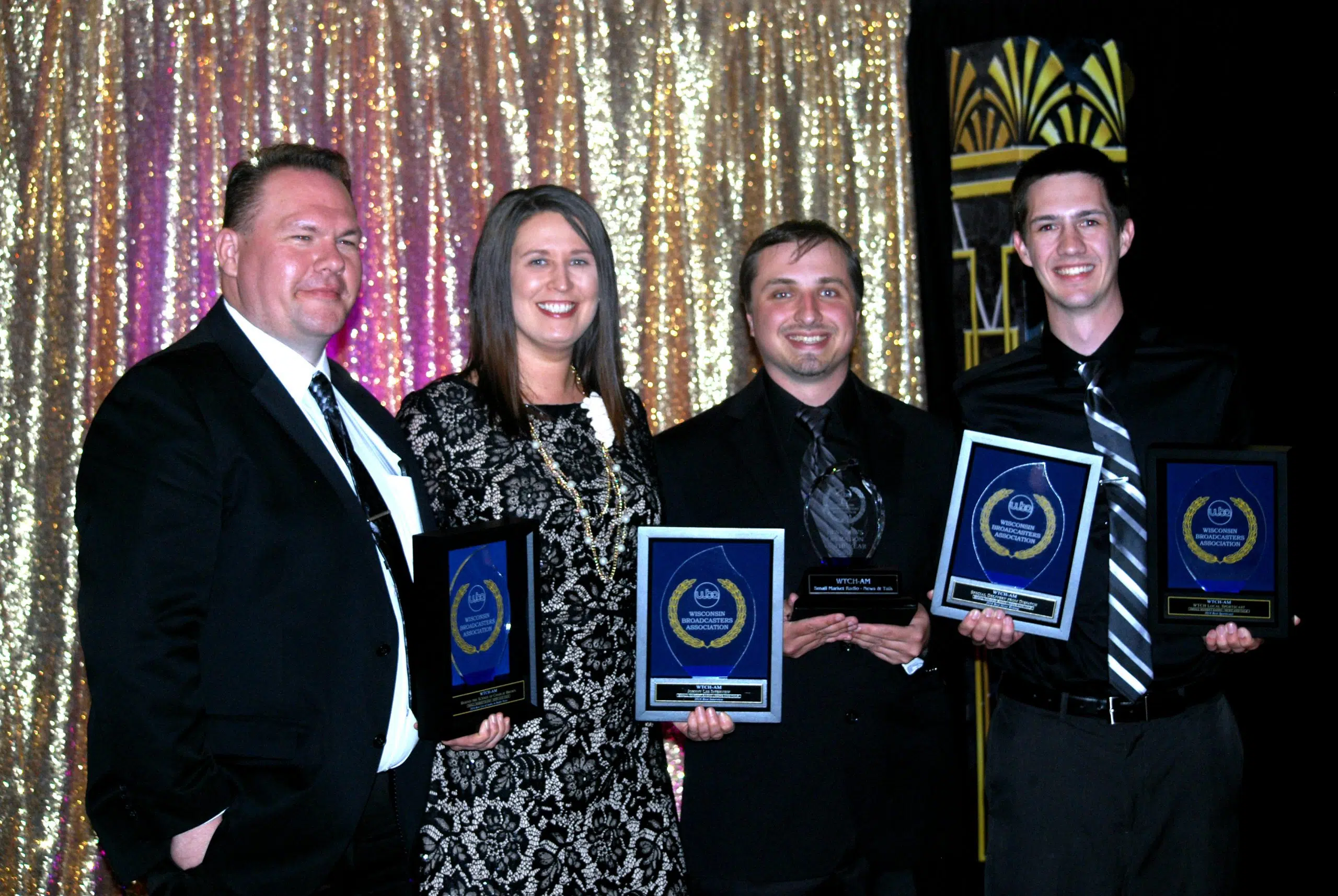 For the second straight year, WTCH received some State recognition for Small Market Radio.
"The winner of Small Market News Operation of the Year, WTCH Shawano" was heard throughout the room of Wisconsin Broadcasters for the second straight year. The prestigious award was accepted by WTCH News Director Brad Williams, News Reporter Tony Bettack and General Manager Eric Voight.
"Local news is huge for us in our market" said Voight. "It is a huge honor to be recognized by our peers."
News Operation is awarded to the News Team that accumulates the most points in ten news categories. WTCH News Team submitted their best work of 2016, resulting in two first place awards in Small Market Radio.
WTCH won the News award by a narrow margin, with WBEV in Beaver Dam finishing a close second.
"There really is a strong push from Small Market radio stations because the competition keeps getting stronger, making us work harder" said Williams.
For Williams, it is the second year for the award, but the fourth time that WTCH has won News Operation of the Year in the last decade. Since the last award, WTCH has added Tony Bettack to the News Team.
One first place award winner was Bettack's story on a Shawano County Dispatcher who helped a local family in a big and memorable way by delivering a baby over the phone. The story included comments from the dispatcher and the parents, along with the recording of the 911 call.
The other first place award was for Brad Williams trip Behind the Scenes of Shawano Community High Schools Musical "You're a Good Man, Charlie Brown."
Among the second place awards for WTCH was our inside look at Brad Williams learning how to play the 2016 fad Pokemon Go.
And WTCH's Your Vote Matters 2016 Presidential Election coverage received 2nd place out of all Small Market Radio Stations in Wisconsin.
3rd place entries included WTCH Local News, On-Scene reporting from the Shawano Milk Truck Spill, Shawano Water Outage and Bonduel Elementary Fire Scare. Awards also included WTCH News coverage of Touch A Truck 2016 and a special story on local law enforcement and their EVOC training.
WTCH Sports received 1st place in Local Sportscast and 3rd place in State Play-By-Play from the WIAA State Wrestling Tournament.
WTCH programming received a first place award on an interview that Kayla McKenzie did with Johnny Lee and also won awards for radio commercials for Mountain Bay Outfitters and Bubba's BBQ.
On behalf of everyone at WTCH, we thank the community for their continuous support of what we do, as we strive to be where you are and your Community Helper in 2017.
"The work that goes into trying to provide local news for our community is ongoing and something we strive for" said Williams. "We continue to push ourselves and raise the bar."