Four students head the class of 2017 at Shawano High School, as Alexis Wilber, Julia Haarth, Alec Wendland, and Patrick Brodhagen lead the way as co-valedictorians.
Meet Alexis Wilber: Co-Valedictorian
Alexis Wilber  plans to attend Bellin College of Nursing where she will be studying sonography. For her, earning valedictorian didn't come easy, but in the end she says the work she put in was worth it.
"I know some people are just talented and they don't have to try that hard," Alexis said. "They're just really smart, but I study every night, every single night. Especially for calculus, if we had a test I'd go over every single homework problem we had that unit. It was a lot of work, but it paid off."
Alexis said her interest in being a sonographer came last summer when she attended a radiology camp at Bellin.
Meet Alec Wendland: Co-Valedictorian
Alec Wendland will be attending Carroll University in Waukesha, where he'll be studying math, a subject that's always felt natural to him.
"It's a lot of studying and a lot of doing some not-so-much-fun things to get to something that is fun, I guess," said Alec about the work it took to become co-valedictorian. "For as long as I can remember, I've liked math, like all the way back to kindergarten and first grade. I think it's the logic behind it and everything seems to make sense to me for some reason."
Despite math coming easy to him, Alec says first decided to declare it as his major a couple of months ago and he's looking forward to seeing where it will take him in the future.
Meet Julia Haarth: Co-Valedictorian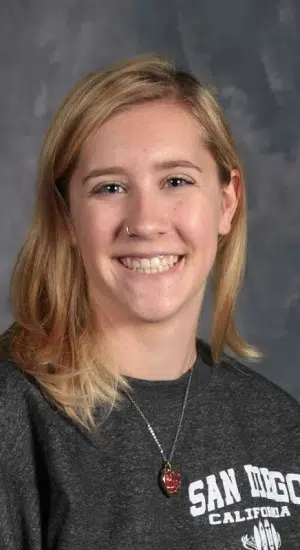 Co-Valedictorian Julia Haarth made sure to get involved during her high school years. She says she'll look back fondly at memories in athletics, but also was involved with a number of other clubs and activities.
"I really liked being involved with the sports and being a part of the tennis team and softball team," Julia said of her favorite part about high school. "Other than tennis and softball, I was involved in NHS (National Honor Society), I was a class officer, student council, and I did a little bit of science society and Spanish club."
Julia says while she originally wanted to be a marine biologist or veterinarian, she will be attending the college of nursing at UW-Oshkosh in the fall.
Meet Patrick Brodhagen: Co-Valedictorian
For Patrick Brodhagen, he realized he had the goal of becoming valedictorian since 8th grade. Patrick credits the teachers for making his high school experience memorable. Patrick was involved in math league, as well as science society where he got the idea to take initiative and start his own club.
"I started up a rocketry club and this year we're actually building an eight-food rocket, so it's pretty cool," Patrick said of his involvement in school. "It was something we had thought about doing and I got the group of guys together asked 'hey do you want to do this' and they're like 'yeah,' so basically the majority of our calculus class all got together and built this rocket."
Patrick will attend UW-Green Bay where he will double-major in environmental science and geo-science. He adds that he's always loved geology and nature, which is why he feels that he's found his calling.