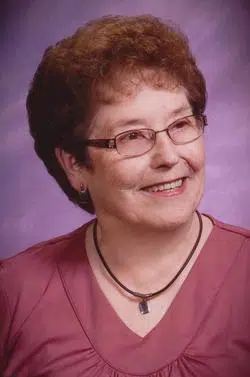 On May 10th, 2017, Marian E. Monroe passed away peacefully into her Lord's loving arms after a courageous battle with many health issues.
She was born on March 4, 1936 to Lenor and Linda (Boerst) Stuewer in Shawano. She was raised and lived her entire life in Bonduel. She never wanted to leave. Bonduel was truly her home. She graduated from Bonduel High School and was a lifelong member at St. Paul Lutheran Church. She loved God and her church.
Marian worked her entire life in customer service at the following businesses: Equity Livestock, K&G Sporting Goods, Rollman Homes, North County Homes and Kwik Trip. She volunteered for the Red Cross by helping with the blood drives in Bonduel. She loved to socialize and visit at Red Rooster. She was an avid bowler and was in the Shawano Women's Bowling Association Hall of Fame. Marian also served as president for the Shawano Women's Bowling Association. Her passion was watching her children, grandchildren, and great-grandchildren participate in various sporting events. She loved the Bonduel Broncos where she took tickets for games for many years. She loved the Brewers, Packers, Badgers and the Bears…the Bonduel variety, not the "other" ones. Marian also enjoyed tending bar at Vic's where she kept the scoreboard for the softball team and kept up on local happenings.  In her retirement, she enjoyed baking, cooking and canning for all of her loved ones.
Marian is survived by: her children, Cindy (Kenny) Huebner of Shawano, Jeffrey Monroe of Neenah, and Kim Conradt of Green Bay; eight grandchildren, Jason (Jill) Wesenberg, Cheri (Al) Weier, Jamie (Bob) Shaw, Jessica Monroe, Jennifer Monroe, Nathaniel Monroe, Paul (Traci) Conradt, and Mallory Conradt; 13 great-grandchildren; 1 great-great grandson; a brother, Leon (Donna) Stuewer of Bonduel; a sister, Dianne Adkins of Bonduel; as well as numerous nieces, nephews, other relatives, and friends.
She was preceded in death by her parents, her former husband, Richard Monroe, and a brother in law, Mark Adkins.
A funeral service for Marian will be held at 1:00pm on Saturday, May 13, 2017 at St. Paul Lutheran Church in Bonduel with Rev. Tim Shoup officiating. Burial will be in the church cemetery.  Visitation will be held at the church on Saturday from 11:00am until the time of the service.  Swedberg Wendt Funeral Home is assisting the family with the arrangements.
Marian's family would like to extend a special thanks to ThedaCare staff and hospice, Dr. Divjak, Lakeland Industries, Laura Thayer, Pastor Shoup, and Paiser's Oak Haven.