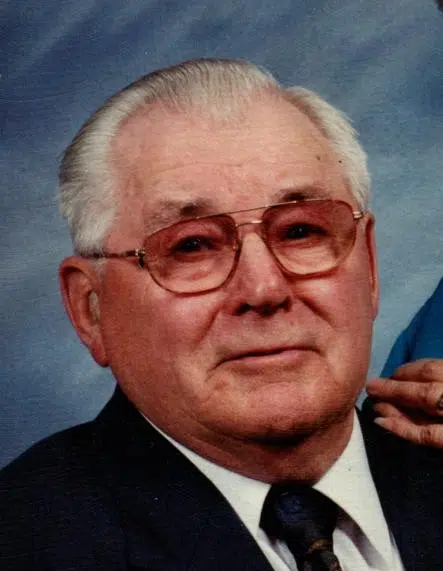 Roy A. Behnke, age 95, of Clintonville, entered eternal rest with his Lord and Savior on Tuesday, May 9, 2017.
Roy was born on June 16, 1921 in Manitowoc as the son of the late Edwin and Ida (Riemer) Behnke. Roy graduated from Almond High School and then began working for his father's cheese factory. As a young man he moved to the Clintonville area and ran his own cheese factory near Bear Creek. Roy was then called to serve his country in the United States Army during WWII. He was honorably discharged in August of 1946 and returned home to continue running his cheese factory. Roy was united in marriage to Carla Fischer on December 16, 1967 in Clintonville. Upon selling his cheese factory, Roy then worked with his brother Leslie "Les" Behnke at his cheese factory in the Town of Matteson, Waupaca County. Roy then opened a cheese store in Clintonville where he enjoyed visiting with local residents prior to his retirement. Roy enjoyed meeting the local farmers along his milk truck route and after his retirement took pride in delivering trucks for FWD Seagrave to various destinations. He was a member of St. Martin Lutheran Church in Clintonville for many years. Roy was a longtime member of the Clintonville VFW Post #664 & American Legion Post #63. He also served the Clintonville community as a member of the Transportation Commission. Roy was a very gifted musician; especially when it came to playing the organ or the accordion. Oddly enough, he never read a note of music. Roy played mostly polkas and even started his own polka band known as "Roy's Rhythm Rascals". Later in his life he became a fan of the Green Bay Packers and rarely missed a Milwaukee Brewers game. Roy looked forward to cutting grass on his riding lawn mower and couldn't wait to start it up each year. Most importantly, he loved his Lord and had a huge heart. His family always felt loved and knew how proud he was of each of them.
Survivors include: His wife of 49 years: Carla.
Children: Londa (Walter) Spaude; Steven R. Behnke; Liza (Dan) Braaten; Scott (Tammy) Behnke; Vicky (Sam) Wait; Michael (Michelle) Colyar; Merry (Karson) Korth; Kathy (Chuck) Kilboy; & Jim (Tara) Colyar.
21 Grandchildren plus 1 little angel.
20 Great-Grandchildren.
Siblings: Leslie Behnke & Audrey Arndt.
Sisters-in-Law: Dorothy Strange & Shirley (Duane) Fischer.
Roy was preceded in death by his parents; grandson, Adam Martin; sisters, Ovella (Elmer) Everson, Ruby (Arlyn) Olmsted, & Rosemarie (Roger) Hanson; in-laws, Carl & Gertie Fischer; sisters-in-law, Mary Fischer & Rose Behnke; and brothers-in-law, Peanuts (Phyllis) Fischer & Rollie Strange.
Roy's funeral service will be held Saturday, May 13, 2017 at 11 AM at St. Martin Lutheran Church in Clintonville with Rev. Christian Burg officiating. Interment will follow at the church cemetery in the Town of Larrabee, Waupaca County with military honors performed by members of the Clintonville American Legion Post #63, VFW Post #664, and American Legion Auxiliary Unit #63. Friends may call at the church on Saturday from 9 AM until the time of the service. The Eberhardt-Stevenson Funeral Home & Crematory of Clintonville is assisting his family. www.eberhardtstevenson.com