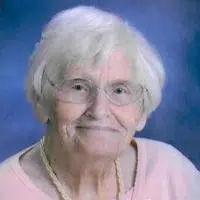 Adeline I. Wegner, age 100, of Marion passed away peacefully with family at her side on Saturday, May 6, 2017.
The former Adeline Irma Rosella Krieser was born on September 29, 1916 in the Town of Dupont, Waupaca County, to the late John and Amelia (Miller) Krieser.  She grew up in the Marion area and graduated from Marion High School.  Adeline was united in marriage on September 29, 1940 to Elmer E. Wegner at St. Paul Lutheran Church, Town of Dupont.  After marriage the couple lived in Neenah for two years and then returned to the Town of Dupont where they dairy farmed until retiring in 1978.  At this time Adeline and Elmer sold the farm to their son Rick.  The couple shared many summers up north on Pelican Lake fishing and then wintered in Colorado Springs, CO.  Then they settled in Marion.  Her husband preceded her in death on March 4, 2002.
Adeline is a former member of St. Paul Lutheran Church, Town of Dupont, where she was baptized, confirmed, and married.  She was involved with the Ladies Aide and was active with numerous projects.  When she settled in Marion she became a member of St. John Lutheran Church, Marion, where she was a Ladies Aide member and enjoyed quilting.  For many years Adeline worked side-by-side with her husband on the farm.  But her true passion was raising her children and taking care of the home.  She had a large vegetable garden and canned whatever she could, picked pickles, and tended to her apple, cherry, and plum trees.  Adeline cherished some true lifelong friends and she really loved visiting with relatives and friends on Sunday afternoons.
Survivors include five children, Nancy (Clem) Shauger of Marion, Barb (Keith) Knapp of Combined Locks, Sally (Al) Brown of Phoenix, AZ, Kathryn (Bob) Krzystan of Severna Park, MD, and James "Rick" (Debbie) Wegner of Marion.  There are 13 grandchildren:  Todd Shauger of Neenah, Larry Shauger of Clintonville, Jessica (Mick) Beechy of Marion, Karrie (Travis) Witkind of Colorado, Brian (Kathy) Knapp of Appleton, Alfred (Emilee) Brown II of Arizona, Elizabeth (Ryan) Van Gerena of Colorado, Alex (fiancée Selena) Jamal of Florida, Nick (Melissa) Vali of Delaware, Andrea (friend Rob) Krzystan of Florida, Joe (Gabi) Krzystan of New York, Mike Wegner of Japan, and Jeff Wegner of Marion.  She is further survived by 13 great grandchildren, a sister-in-law Doris Bauer of Milwaukee, many other relatives and friends.
Adeline is preceded in death by her husband Elmer, a granddaughter Lynn Shauger, and three sisters Etta Henschel, Elnora Desens, and Lucille Strehlow.
Funeral Service will be held on Saturday, May 13th at 11:00 AM at St. John Lutheran Church, Marion.  Rev. Bradley Dokken will officiate and burial will follow at Roseland Cemetery, Town of Dupont.  Friends may call on Saturday from 9:00 AM until time of service at the church.  The Beil-Didier Funeral Home, Marion, is assisting the family.
We wish to extend a big thank you to all of her good neighbors and friends who watched out for Mom allowing her to remain in her own home for so many years.