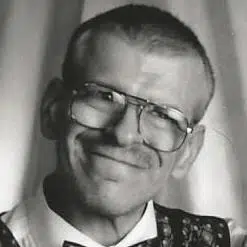 John "Johnny" Buhr, age 67, of Waterloo, Wisconsin passed away on Thursday, April 27, 2017 at Columbus Community Hospital, Columbus, Wisconsin.
 John Anthony Buhr was born on December 30, 1949 in Clintonville to Anthony "Tony" and Floramae "Flo" Buhr.  He grew up in Marion and graduated from Bowler High School. He lived with his parents for much of his life and later moved to Beacon House Group Home in New London.  He was employed at Waupaca County Industries in Manawa for close to 39 years. In 2014, he moved from New London to Strong Haven Assisted Living in Weyauwega. A year later, he settled at Bethesda's Madison Street Home in Waterloo
 John is a former member of St. Mary's Catholic Church, Marion.  He attended the day camp at Keller's Lake every August for over 50 years.  He was a huge All Star Wrestling and Green Bay Packer fan.  He was fortunate enough to be photographed with the legendary Ray Nitschke.  He was a proud participant in the Special Olympics for several years. He admired law enforcement and emergency medical responders.  His other interests included drawing, painting, collecting business cards, dancing, photography, bowling, fishing, nature, animals, arm wrestling, and trips to Gulfport, Mississippi, Dollywood, New York City, Branson, and Hawaii. Most of all, John loved people, family and the many friends that he made wherever he went.
 Survivors include three sisters, JoAnne (Lee) Rothamer of Mosinee, Beverly (Carin Bringelson) Buhr of Madison, and Mary K. Buhr of Minneapolis.  There are six nieces and nephews, Daryl (Diana) Rothamer of Mt. Horeb, Julie (Alex) Cruz of Middleton, David (Rebecca) Rothamer of Madison, Brianna Buhr of Toronto, Ontario, Canada, Amanda (Ruben) Zamilpa of Minneapolis, and Anthony (Holly) Buhr of Minneapolis.  There are twelve great nieces and nephews, Owen, George, Ben, Christian, Clara, Carter, Berndt, River, Hanna, Gabriel, Thiago, and Jason "JJ".
 Memorial Service will be held on Saturday, May 13th at 11:30 AM at St. Mary's Catholic Church, Marion.  Fr. Jose Castaneda will officiate and inurnment will follow in the parish cemetery.  Friends may call on Saturday from 10:30 AM until time of mass at the church.  The Beil-Didier Funeral Home, Marion, is assisting the family.  In lieu of flowers, memorials are preferred to Waupaca County Industries (WCI Donation Account) in memory of John Buhr.
 John was a blessing to our family and he will be dearly missed.  We are very grateful for all the kindness extended to John throughout his life, the care received while living at Beacon House, Strong Haven, and most recently a Bethesda Home.  Also, his life was enhanced by the support he received from Waupaca County Industries, and the care management services he received from Community Care.