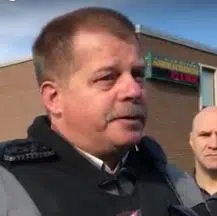 Story by WRN/Andrew Beckett
A student wearing a Star Wars costume prompted a morning an evacuation at Ashwaubenon High School and a lockdown at other nearby buildings.
Ashwaubenon Public Safety Captain Jody Crocker said a passer-by saw and reported a student entering the school Thursday morning wearing a Darth Vader costume and mask, while carrying a bag. The student was apparently dressed up to celebrate "Star Wars Day," marked each year on the May 4th.
Crocker said the school was evacuated and cleared, and they determined there was no threat. He said the student is being interviewed, but they do not believe there was any "ill intent" in their actions. "There's no harm here, there's no threat to the school," he said.
Ashwaubenon High School Principal Brian Nelsen said the school does have a "no costume" policy, which they do plan to reinforce with students. "A student made a mistake today…and we'll move forward, we'll make it a learning lesson," he said.