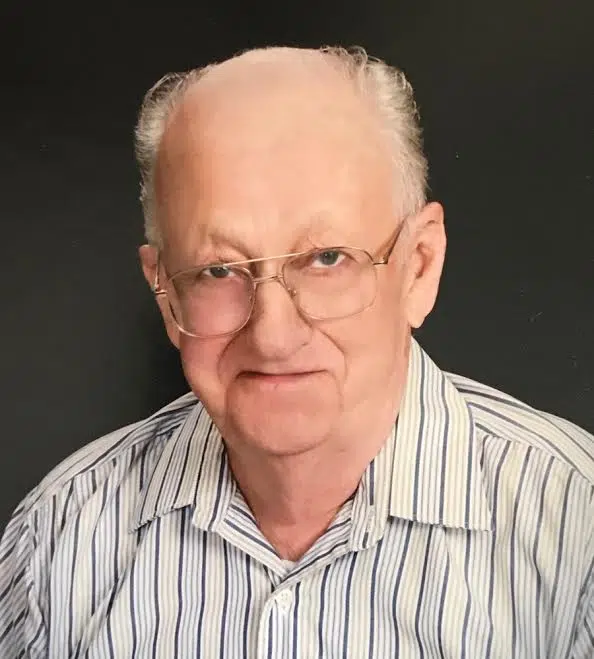 James A. Vollmer, age 80, of Tigerton passed away Monday, May 1, 2017 at ThedaCare Regional Medical Center, Neenah.
James Arlo Vollmer was born on August 8, 1936 in Tigerton to Fred and Esther (Seefeldt) Vollmer.  As a young man Jim started working at the Butch Conradt farm and he also worked for some time at the gas station in Tigerton.  Jim entered the U.S. Army and served from 1954 – 1956.  He was united in marriage on August 29, 1959 to Sandra L. Karschney at St. John Lutheran Church, Tigerton.  Jim was employed by White's Construction, Milwaukee, as a heavy equipment operator and as foreman from 1957 – 1969.  Then he went to work for Ralph Schroeder Excavating, Tigerton, and finally with J.I. Case Company, Wausau, until his retirement in the early 1990's.  Jim is a longtime member of St. John Lutheran Church, Tigerton, and he was proud to be a Lifetime Member of the NRA.  Jim always liked the outdoors whether he was trout fishing with his brother, Marty, or going on fishing trips to Montana, Alaska, or Canada.  Jim enjoyed hunting for small game and he was a "legendary" deer hunter.  He was a true handyman who could fix or repair just about anything.  Jim will be remembered most for his wonderful sense of humor, as a real jokester, and he was always helping others out.
Survivors include his wife of 57 years, Sandy, and four children, Robin (friend Dave Garton) Rivard of Elderon, Jim (Shelly) Vollmer of Kronenwetter, Michael (Mona) Vollmer of Xenia, OH, and Tammy (Jeff) Bydynkowski of Weston.  There are five grandchildren, Jessi (fiancé BJ Penegor) Rivard, Michael Vollmer, Monica Vollmer, Joshua Bydynkowski, and Brady Bydynkowski.  There are two great grandchildren, Christopher and Elizabeth Penegor.  There is a sister, LeeIla Zitzke of Seymour and a sister-in-law, Doris Vollmer of Clintonville.  There are two sisters-in-law, Karen Carlson of Elderon and Marlene (Floyd) Mattson of Elderon; and two brothers-in-law, Edwin "Duke" (Donna) Karschney of Tigerton and William (Kay) Karschney of Hatley.  He is further survived by many nieces, nephews, other relatives and friends.
Jim is preceded in death by his parents; two grandsons Jason and Jed Rivard; four sisters Luella Steinke, LaVera Tullberg, Bonnie Sanderfoot, and Violet Conradt; one brother Marty Vollmer; and several brothers-in-law.
Memorial Service will be held on Tuesday, May 9th at 11:00 AM at St. John Lutheran Church, Tigerton, with Rev. Matthew Uttenreither and Rev. Clifford Kessen officiating.  Inurnment will follow at Union Cemetery, Tigerton.  Military Honors will be provided at the cemetery by members of the American Legion Post #239 of Tigerton.  Friends may call on Tuesday from 9:00 AM until time of service at the church.  The Beil-Didier Funeral Home, Tigerton, is assisting with the arrangements.
The family wishes to thank all the doctors and nurses at ThedaCare Medical Center, Shawano, and ThedaCare Regional Medical Center, Neenah, for the compassionate care given to Dad.