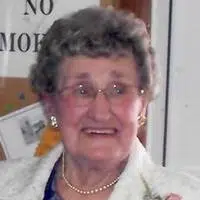 Elaine E. Breitenfeldt, age 94, of Tigerton passed away Sunday, April 30, 2017 at Oakhaven Assisted Living Facility, Shawano.
The former Elaine Erna Radtke was born on January 18, 1923 in Town of Grant, Shawano County, to Albert and Angela (Hanneman) Radtke.  As a young lady she did childcare for several families in the Wausau and Shawano areas.  Elaine was united in marriage on May 14, 1949 to Waldo "Whitey" Breitenfeldt at St. John Lutheran Church, Marion.  Whitey and Elaine made their home on Breitenfeldt Road where they continued with the family dairy operation.  The couple sold the farm to their son, Bruce, in 1976 and then moved to the home on Weasel Dam Rd.  Elaine helped on the farm for many years and raised the family.  Whitey and Elaine enjoyed watching their kids and grandkids sporting events and were always the loudest fans.  Elaine was a longtime supporter of Caroline Cougar Baseball.  She is a current member of Zion Lutheran Church, Caroline, and a former Marion Lioness member.  Elaine was involved in all sorts of activities and projects with the Ladies Aide and the Altar Guild; volunteered as a Sunday School Teacher and participated in several Bible Study Groups.  Her favorite pastime was working in her flower garden, golfing, and bowling.  Elaine made friends everywhere she went and her out-going personality made it easy for her to meet people.  She will be remembered most for her wonderful sense of humor and her smile the lit up the room.  Elaine was a very caring person and loved spending time with her grandchildren.
Survivors include three children, Barb (James Hanke) Spiegel of New Holstein, Bruce (Char) Breitenfeldt of Tigerton, and Bev Zimmerman of Peeples Valley, AZ.  There are 10 grandchildren, Stephanie (Curtis) Brown, Corrin Spiegel, Danielle (Gerson Tovias Escobar) Engum, Justin Engum, Jeremy (Becky) Engum, Nikki Breitenfeldt, Jason Breitenfeldt, Ryan (Regina) Breitenfeldt, Jamie Hoffman, and Tracy (Chance) Spencer.  There are 11 great-grandchildren, Paige, Naythen, Jaeger, Pheniox, Meah, Weston, Ethan, Mason, Allison, Taryne, and Cy.  There is one sister, Angela "Honey" (Wallace) Beck of Wausau and one sister-in-law, Olive Hoffmann of Marion.  She is further survived by many other relatives and friends.  Elaine is preceded in death by her parents, a daughter at birth, her husband Whitey on Jan. 9, 1996, a daughter Betty Vander Kinter, and her siblings Martin, Oscar, Esther, Edna, Alvin, and Eunice.
Funeral Service will be Monday, May 8th at 11:00 AM at Zion Lutheran Church, Caroline.  Rev. Craig Nehring will officiate and burial will follow in the parish cemetery.  Friends may call on Monday from 9:00 AM until time of service at the church.  The Beil-Didier Funeral Home, Marion, is assisting the family.  In lieu of flowers, memorials are preferred to Zion Lutheran Church, Caroline Lions Club, or ThedaCare at Home Hospice.
The family wishes to thank Paiser's Oakhaven for the excellent care and compassion provided to Mom.